Editor's note: MaXpeedingRods August activity,"Show and Tell Us About Your Car Building",which is in full swing. Photos about Jay del Rossi's car building and Description. Did it catch your eyes? Give the post some likes to cast his vote.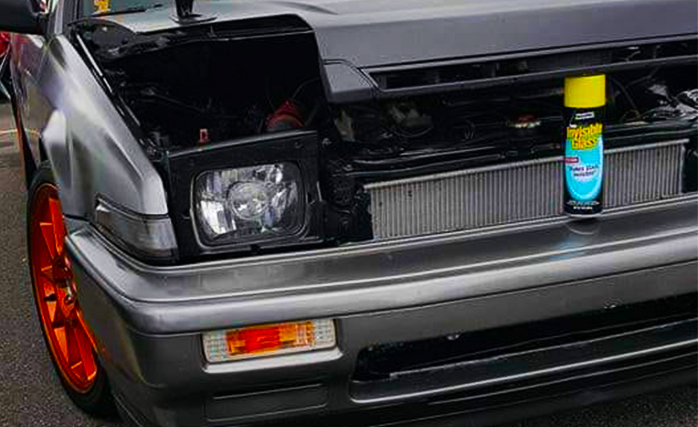 1989 Honda accord lxi.
Bought in 2001.
240,000 miles.
OEM Bose tapedeck.
H&r springs with tokico blue shocks polyurethane replaces all bushings.
Timekin hubs with arp wheel studs, lugs.
Oem optional rear mud flaps.
OEM bronze tinted glass.
OEM window visors.
Jdm corner and taillights.
H4 conversion H.i.d. headlights.
Moog balljoints(inner,outer,upper,lower).
85 prelude front uca modded.
91 prelude si seats and steering wheel.
Brembo drilled and slotted front rotors.
Power stop drilled and slotted rear rotors.
Hawk ceramic brake pads.
Power steering rack converted to manual.
Partial wire tuck.
Fuse box, battery relocation.
Vacumm box delete.
Obd0 converted to obd1.
P06 chipped and dyno tuned.
Boomslang obd0 to obd1 harness.
Distributor plate for obd1 distributor.
Distributor extension key.
Pacesetter header and downpipe.
2.5 exhaust from downpipe to muffler.
DC sports dual exit muffler.
Deleted ac, cruise.
Custom cai.
Modified b series intake manifold.
52mm throttle body.
Aem fuel rail with pressure regulator.
Ktuned pressure gauge.
Aem wideband air fuel gauge.
Delta cam 272 regrind.
Bisimoto titanium valve springs.
Bisimoto sourced adjustable cam gear.
4 bar map sensor.
-6an fuel line setup.
Plans for the rest of the season is to start a restore and remove rust from rockers and wheel wells. Remove all signs of the 2000's (fiberglass,bondo)
reinstall all moldings.
Going for a 90% restore with a touch of today.
I'd like to get my extra bottom end done so I can pull the head and get a 3 way valve job done.