Editor's note: Lexus IS200's are very cheap in the UK. You can easily pick a nice one up for £1000. According to Rory's words, the reason they are so cheap is that they use a lot of fuel and they aren't really very fast. Rory aimed to solve that but he don't want to spend too much money on the project. He could just buy a faster car after all… So he did an exercise in sourcing the price quality parts through MaXpeedingRods and alternative manufactures!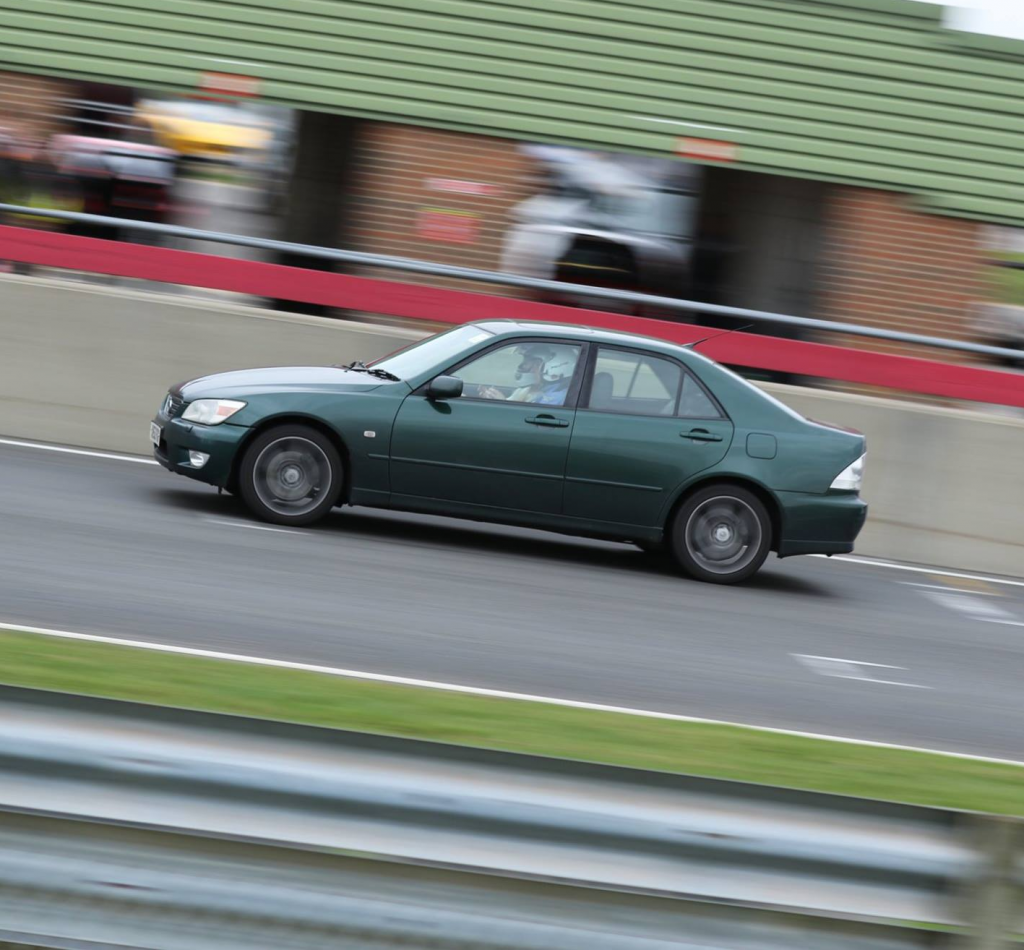 So after the track day I knew that the Saab 9-3 turbo was too small for my engine. Although in normal driving the turbo added power at low RPM where you need it, on the track performance could have been better. That's why i started the whole project after all. Also in normal driving i was getting very rich AFRs probably due to the small turbine housing restricting the exhaust.
I had some spare pay pal cash and one lunchtime the temptation got the better of me and I ordered a very price quality brand new turbo off Ebay store of MaXpeedingRods.
I ordered a GT2871. This was totally at random without any research. Didn't even think about the size. Just ordered it.
So this turbo cost £120 delivered. I assumed it must be shipped direct from China for that price so sort of forgot about it. This was the week before Christmas.
To my surprise, a few days later the turbo arrived! it was a real turbo, the quality seemed really good. how can anyone make a turbo for £120?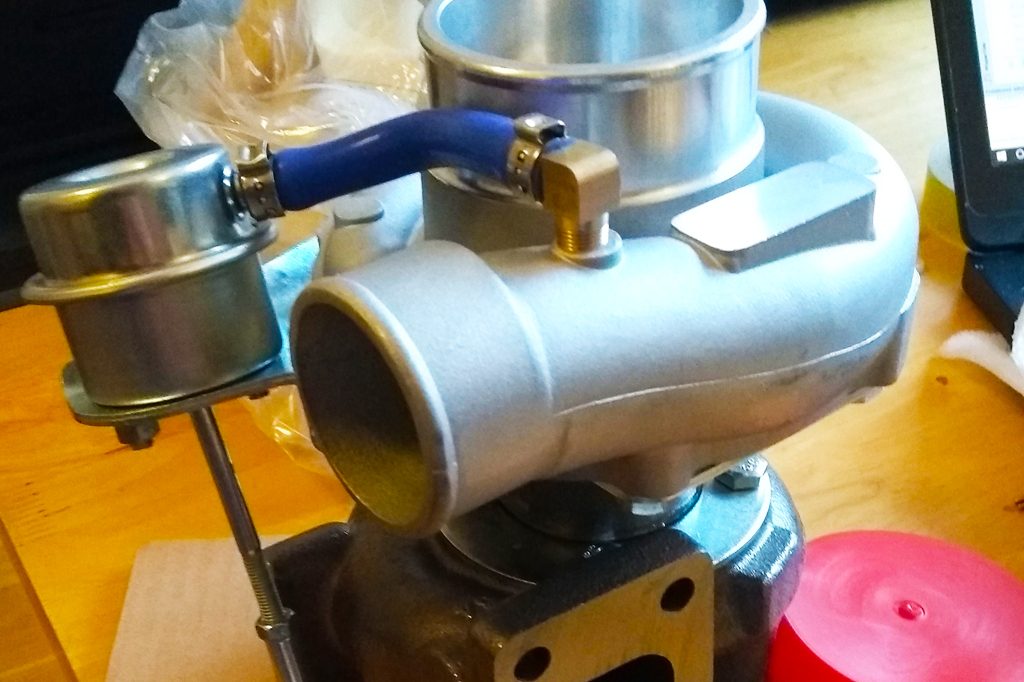 It came with a well written instruction book which was actually very useful and a few gaskets and bits and pieces.
I suddenly realised that i could use the Christmas break to fit this while I was back at my parents place. This was the last trading day before Christmas and I needed a few parts due to differences to the old turbo:
Exhaust outlet flange – No time to order one. will have to make from scratch.
Exhaust outlet gasket – Couldn't get hold of one. Will have to use exhaust paste.
Compressor Inlet silicone joiner – The old turbo has a 2″ inlet. New has 2.5″ managed to get a 2.5″ to 2″ reducer from burton power in east London.
Oil feed banjo bolt – different M12 thread – I actually had one of these from ordering the wrong parts last time.
M14 banjo fittings for coolant lines – This was a bit of a pain, I couldn't get any. All of the hydraulic suppliers were closed. A stroke of luck though, M14x1.5 is almost the same as 1/4″BSP plumbing fittings. I managed to use these to bodge something up to drive the car home.
The first step was to make the turbine outlet flange. I downloaded the datasheet for a GT2871 and draw up the flange in cad. I printed out the design and found the exhaust housing on the turbo is not quite the same as the original. A normal 'garret 5 bolt flange' as they are known will not fit these turbos. The gaskets will fit and seal but you need to trim off a corner of one of the bolt holes. I will put my flange design in the files section.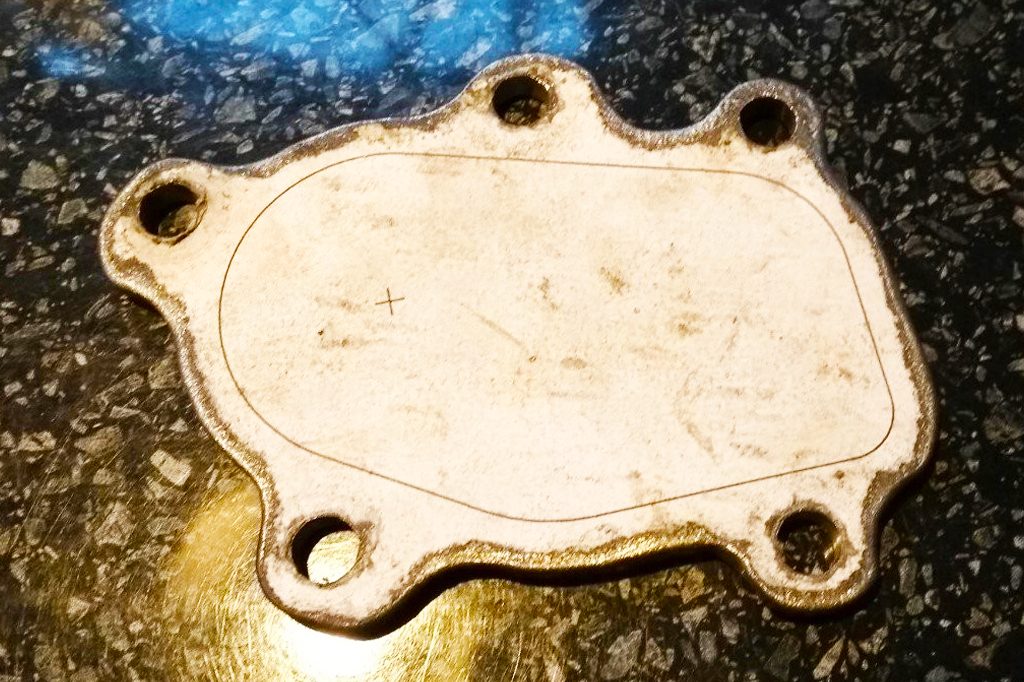 Made from a piece of steel plate.
I chopped off the old flange from the down pipe and fitted the new on.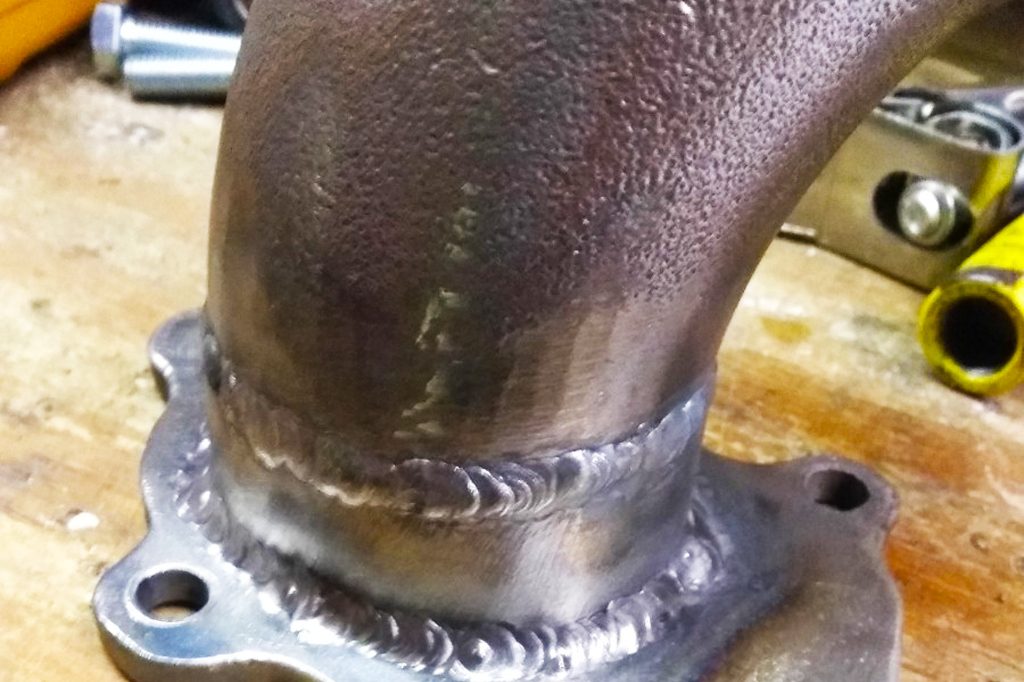 The exhaust inlet is the same flange so that bolted straight on.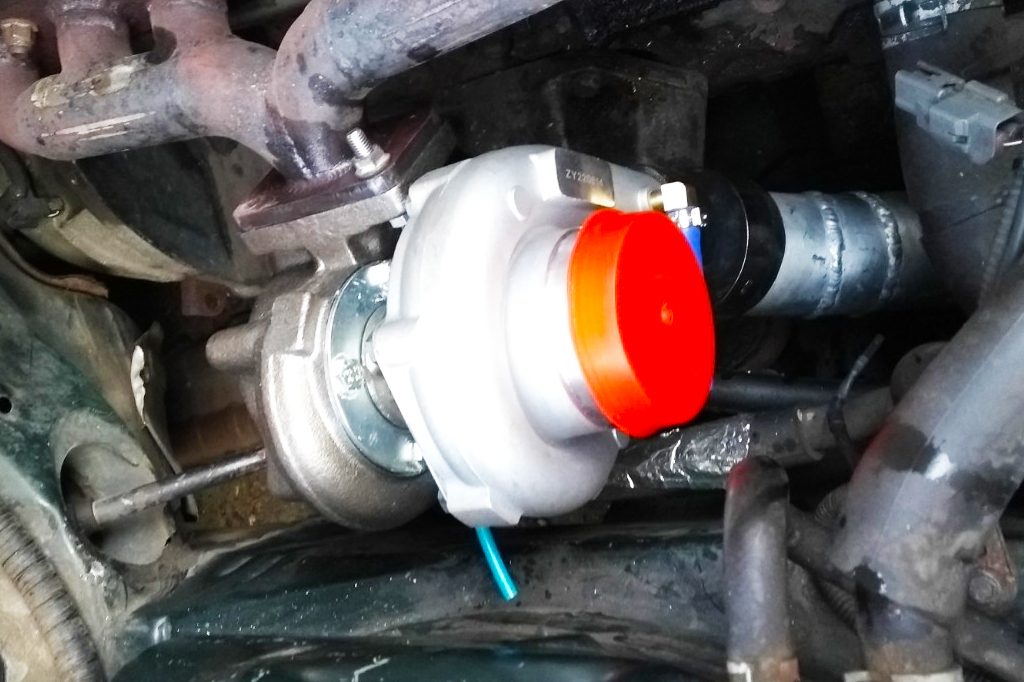 The compressor inlet and outlet bolted straight up after rotating the housings to the correct position. Coolant lines and oil feeds not shown here. The coolant lines were lashed up with some 1/4″bsp to 8mm copper compression fittings. A short length of copper linked to the coolant lines. These have now been replaced with the correct bits!
Apart from working in the snow and in the dark it wasn't that difficult a job.
The first test drive was a bit disappointing. The turbo wouldn't spool up until about 5KRPM. 'the turbo is much too big' I thought. Testing revealed that the wastegate on these turbos needs quite a lot of preload to seal properly. Once that was sorted it was building boost from about 3.5KRPM. I am using the wastegate actuator supplied with the turbo. The instructions advised that the spring was set to .5BAR boost pressure.
Performance is now much better at high RPM. with .5 bar all the way to the red line. A slightly smaller turbo would be better if you're doing this yourself but for £120 you cannot argue.
Old VS New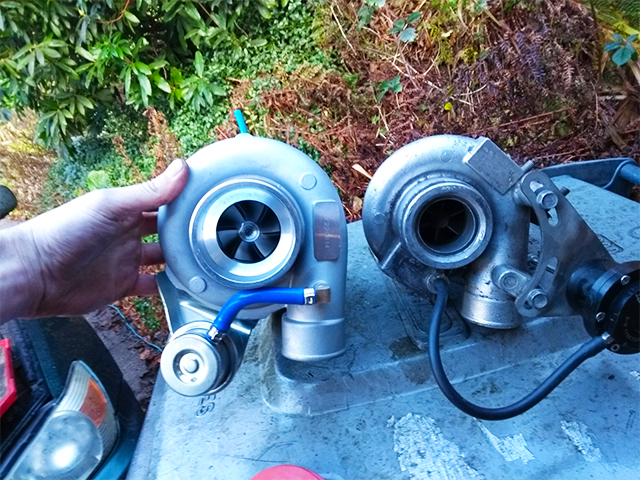 Enter to MaXpeedingRods.com and use coupon codes to enjoy:
5%Blog——get 5% off any purchase over 50.
6%Blog——get 6% off any purchase over 100.
8%Blog——get 8% off any purchase over 200.
10%Blog——get 10% off any purchase over 250.
Declare: The above graphic content source network, if any infringement, please contact the editor to delete!