Eitor's Note: In Today's video, Jimmy Oakes will take us to take a look at the MaXpeedingRods E46 Coilovers.
The BMW E46 Coilover, according to MaXpeedingRods's friend Jimmy Oakes, has an independent body, and unusual some cheaper coilovers, versus the body's actually taught attached to the strut and you adjust your height on the coilover itself.
The BMW E46 Coilover also has a camera plate built-in in a mellow pail ball bushing which you never get on cheap coilovers usually get like a rubber bushing, he said.
The 24 steps damper adjustable coilover for BMW E46 3 series shock absorbers struts Features:
Adjustable ride height
Adjustable pre-load spring tension
Pillow ball top mount — this design helps combat noise while tuning. It also improves the steering feel and response
Most components are made from 6063 aluminum with T6 for increased hardness — the advantages include excellent strength, and aluminum helps keep the weight down.
Hi Tensile performance spring – Under 600,000 times continuously test, the spring distortion is less than 0.04%. Plus, the special surface treatment is to improve the durability and performance.
All inserts come with fitted rubber boots to protect the damper and keep clean.
Improve your handling performance without sacrifice comfortable ride.
A fast and affordable way to easily upgrade your car's appearance.
Easy installation with right tools.
Ideal for any track, drift and fast road and can also be used for daily driving.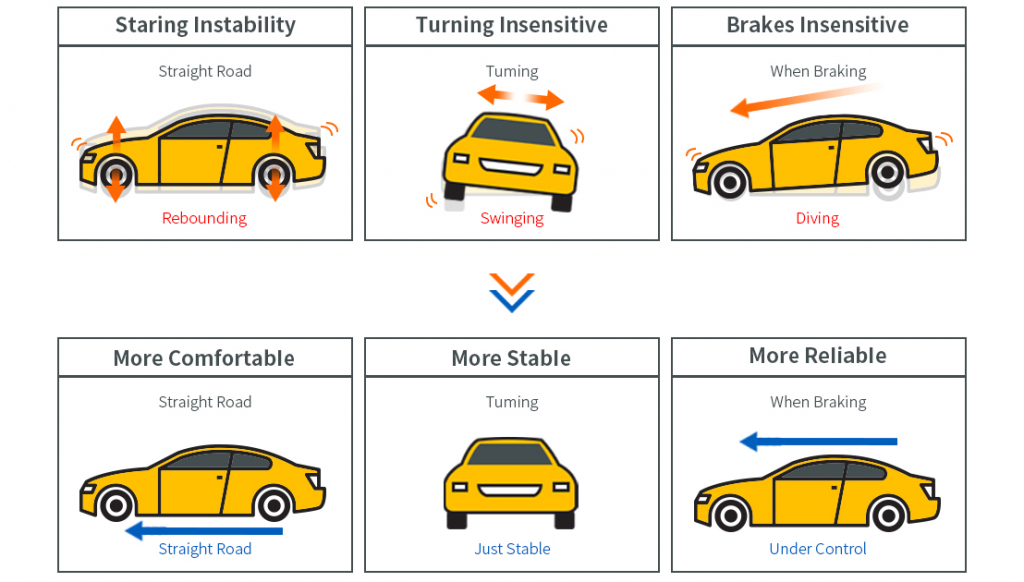 Watch the quick video for more information and a closer look at the BMW E46 Coilover to see whether it's a good fit for your vehicle.