An inverter generator is more complex than your typical generator. You may have noticed them when shopping for a generator. They're usually portable and more expensive.
Inverter generators don't create their own energy like the traditional ones. Inverters work by converting DC to AC, whereas traditional generators are unable to change the current in this manner. However, there is a big drawback, as most inverter generators have volume limitations and aren't suitable for powering entire homes.
Still, for most scenarios, an inverter generator is going to be the superior option if you can afford one.
Pros and Cons of Inverter Generators
Inverter generators are more tech involved, as inverter generators convert from AC to DC and back to AC again to provide a highly stable current. They're also more fuel-efficient, so if you use the generator frequently, you will actually save money in the long run.
Pros
Quiet: Inverter generators are noted for being quiet, making them ideal for many situations.
More portable: They are lighter and smaller than most standard generators.
More Efficient: Standard generators use a lot more fuel than your typical inverter generator. Neither is entirely eco-friendly, although the inverter generators are significantly more fuel-efficient.
More clean: Produces clean energy to prevent damaging your power-sensitive devices.
Cons
High price: Not everyone can afford an inverter generator. Fortunately, there are numerous reasonably priced options on the market with decent reviews.
Smaller capacity: These generators are not meant to power up entire houses. Double-check the specifications before buying to ensure the one you purchase meets your requirements. There are large inverter generators out there, just be prepared to pay a small fortune on one.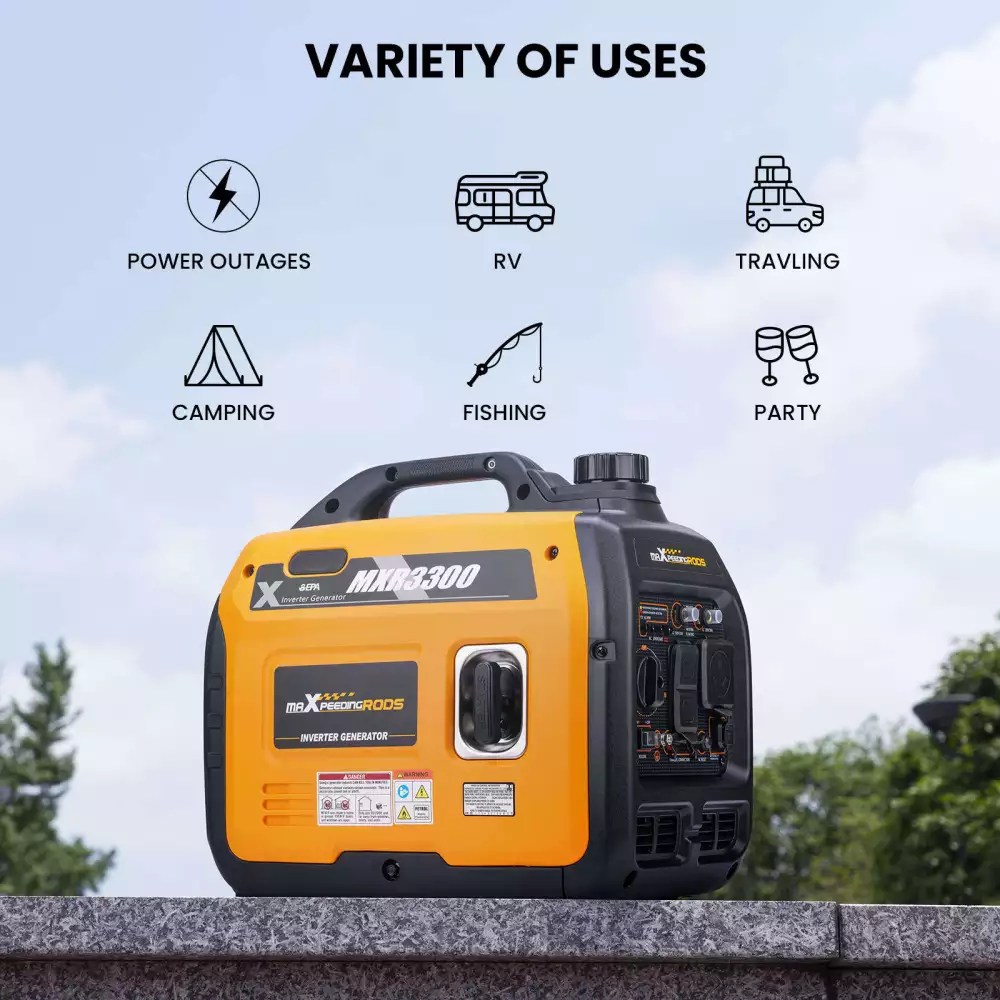 When inverter generator is the best choice?
Emergency use
Inverter generators are a great buy! If a storm knocks out power to your house, you can easily and quickly power up your refrigerator and other essential devices until the electricity is restored. Because of the stable current, they're gentler on power-sensitive devices, and they're not obnoxiously loud.
Camping activity
They're also your best bet when it comes to camping needs, charging phones, powering laptops, and other sensitive devices. It helps that they're not loud, but knowing they won't harm your devices is a significant point to consider when purchasing a generator.
Mobile detailing business
Most mobile detailing operations consist of a generator and electric pressure washer combination to wash cars. Using an inverter generator for your mobile detailing business allows it to work from wherever.
Take advantage of the fuel efficiency and run an electric pressure washer with it, instead of using a gas-guzzling power washer.
Also, it's convenient to have a quieter generator when detailing autos in residential areas at early times of the day. It's also easier to chat and hold a conversation with someone (while still working, of course). They're not 100% silent, but they aren't as loud as a standard generator.
Since they're portable and easy to carry, they can speed up your time on a job site. You can quickly move it in and outside of your mobile detailing rig.
How to buy a portable inverter generator?
The market is flooded with options, and if you visit Amazon or eBay, you will undoubtedly find dozens of generic, cheaply-made inverter generators without an authentic brand behind them.
Make sure to stick with a brand you can trust, as you will need assistance if the generator stops working or arrives at your house damaged.
Remember, this is something you're going to use during an emergency when the power is out. You need to know it's reliable and going to be there for you when you need it. The same goes for those who want a portable generator for camping. It's wise to do your homework and find a reputable generator that you can count on.
Go for a brand you can trust, and make sure they offer support warranties and are known for producing reliable products. MaXpeedingRods may be known amongst tuners for their high-quality suspension parts, but they also create great generators. The MaXpeedingRods inverter generator comes with a 1-year warranty.
If you're just looking for a trustworthy general-purpose inverter generator, then keep reading. For most, they simply want something decent for under $1,000. That's reasonable. However, you should stay away from the lower end of that range.
Best MaXpeedingRods inverter generator under $1K
This ultra-lightweight generator has all the features you need, and we believe this one offers the most bang for your buck. It's quiet, portable, and reliable.
The MaXpeedingRods 3200 watt portable inverter generator has a 50% working load run time of approximately 4 hours while maintaining a power output of 2800w continuous (3200 peaks). It offers an eco mode that allows the motor to automatically adjust its fuel consumption, in turn saving you money by preventing unnecessary gasoline usage, and has a fuel capacity of around 4L (1 US gallon).
In case of overload, the onboard circuit breaker will trip automatically, preventing damage to the generator. The number of devices that need power will directly dictate your generator's need for power outlets. The MaXpeedingRods 3200 watt portable inverter generator has two 120V 20A outlets, with an additional 120v 30A outlet for powering high current loads such as a refrigerator or AC unit. In addition, It has two 5V DC USB outlets for charging portable electronics and ensuring safety in an emergency.
Now, this model is particularly great for help during power outages, as it can power your refrigerator, lights, TV, and more without any issues. Traditional generators might be risky when it comes to powering devices like your WiFi router or smartphones. Laptops, phones, and other electronics would often get damaged when connected to an unsteady power source.
When purchasing a portable generator for home/emergency use, the cost is always a factor. The MaXpeedingRods MaXpeedingRods 3200 watt portable inverter generator is the most cost-effective home generator on the market, with a retail price of USD685. Look for them on the website.