Author's note: Here is first thread i ever wrote about the MaXpeedingRods as we sorted them out, it was almost 7 years ago now. Needless to say some of the doubters, including myself have since use them many times with success, i know Dave and myself have used them often in street performance engine builds. I would dare to day we on the same page here, as well as many of you that have used them too, good product for the money. I have used them both in MGB 5 main and and Triumph 4 and inline six builds.No issue and no failure in street performance engine build, no race failures i can blame the actual rods for. it safe to say they have stood the test of time and good review.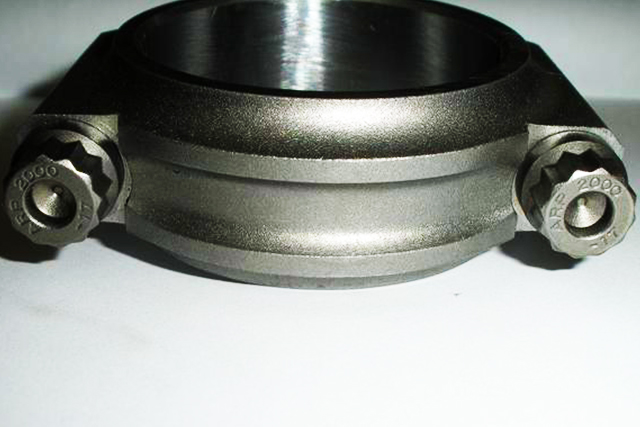 They have arrived, in rather simple box, well for connecting rod manufacrtuer, got here safe and sound and all. Now on the connecting rods itself, it looks good. Weight them as for total weigsht, 616 grams, so a little heavier than Carrillo, I got a Carrillo worksheet here on set I got from them, 588 grams, I also have worksheet on Patuer rods they were 603, for comparision.
Next will be to check botom and top,and bottom weights, check small and big end sizing on my Sunnen AG300 gauge and check them over a bit as for overall machining, and such.
Here's a few pictures of them.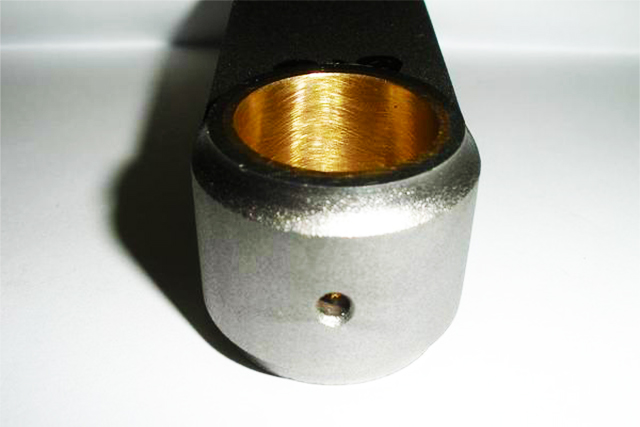 I'll get to this is the next few days and take more pictures, my plan is to just closely exam these rods, check housing bore sizes, top, bottom, total weight as for checking the entire set, look at machining, and how the rods bolts bores are threaded, as for rod bolt shoulder length and such. I'm pretty sure I will not find anything earth shaterring, but atleast we will know for sure.
I don't know of a way to steel type without destroying the product, I've dealt a little with this in the past, and then I was asked for small steel samples of MG crankshafts, and camshafts, so I needed a worn, cracked, otherwise useless crank/cam to do this with to get steel type samples.
Ok, a little follow up on this. As I mentioned there is no tech sheet included with the MaXpeedingRods connecting rods, so I had to do a little research to find the part number of the actual ARP 2000 bolt used with these rods, but that's easy enough because ARP gives you actual data in their catalog, and website, so it's a 3/8″-24 thread, 1.600″ under the head length, and 12 point 7/16″ head, and that all matched perfectly to ARP 2000 #200-6209, so I printed the tech sheet from ARP's website to put in the box for Tom, so he would have it.
The ARP 200-6209 rod bolt per ARP, torques at 55 ft. lbs, so I applied ARP assembly lube to the threads, as specified by ARP (MaXpeedingRods did not supply this, I keep this here all the time for my own use, but neither does Carrillo, or Pauter ).
Before torquing the rods, I inspected the parting line of the rods, it's pretty normal to deburr the edges of the parting line after grinding, and before honing to size, and I did find a small burr on the one rods I was working with, and deburred it with a file, pretty much normal operation anytime you grind a parting lines on a connecting rod for resizing.
After torquing rod, now was time to check it out for housing bore size on the Sunnen AG300 rod gauge, it was dead on 2.0215″, which is the big side of the spec range for a MGB 5 main connecting rod's housing bore.
Next I test fitted a .812″ piston pin to the small end , it was a bit snug, so it would need to be honed a bit for proper fitment, this is pretty normal with all the aftermarket rods, and I damn sure rather it be a tick tight, than a tick loose.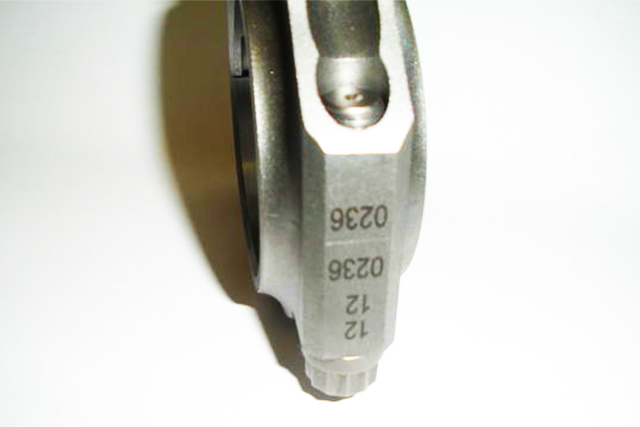 I just did all this to the one rod, I should be able to get the other three checked out. So far nothing hair-raising, the burr on one side of the cap's parting was a little bit of hmmm moment, but nothing a file didn't take care of in a few seconds, and nothing any engine builder worth his salt would not check to begin with.
Next will be to check the overall, bottom, and top weight on the rods as a complete set.
My thoughts at this point, is the product is solid, but you may want to look things over a bit more than one would with a product such as Carrillo. Some of the non critical edges are a little sharp, I don't know that has much to do with strength, if it worried me, I would simple use my die grinder with a cartridge roll, and gently radius some of those edges, who knows the same thing may exist on a Carrillo rod, and I just wasn't looking at them as closely as I would this rod, I plan on doing some more comparision with the Carrillo rods I have here.
I finished my evacuation of the MaXpeedingRods rods, as far visual, measurement, and weight.
They all weight 616 grams total, 433 grams big end, 183 grams small end.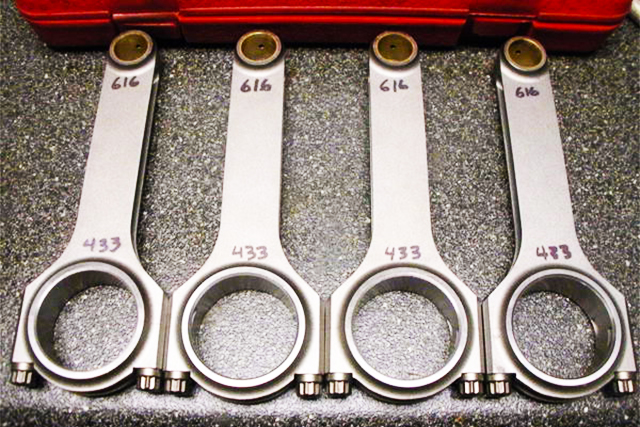 All housing bores were dead on 2.0215″, which is the large side of the spec range. The the finish honing looked good, nicely done, good cross hatch.
The small ends have nice bronze bushing, pretty much the same as Carrillo, and need to be sized to finish, ever so slightly, pretty normal with aftermarket connecting rods in general.
Rod bolts are ARP 2000 part# 200-6209, 3/8″ diameter, 1.600″ under the head length.
The actual bolts in this set of rods, batch number matched ARP's records, and were confirmed as authentic ARP 2000 rod bolts.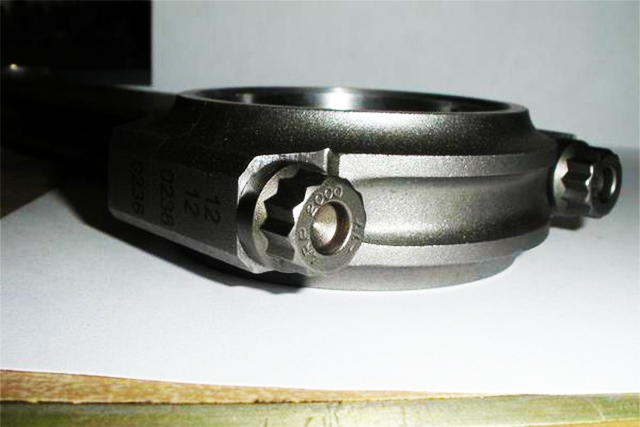 Overall the CNC machining looks good, I compared ever machine surface on these rods, it's very close to Carrillo in it's H beam design, they are slightly different, not identical in design, but very similar. I did find a small burr, on the top section of the rods, all 4 rods, in the same exact place, on the rod top, right at the parting line on the area where it would opposed to the bearing retainer tab on the rod cap. It was small burr, and nothing a file didn't make quick work of, but it was there on all 4 of them.
The steel is claimed to 4340, which is what all of them claim to use, I can't type the steel without ruining the rods, so we have to take their word for that.
The rods came packed good, but nothing like the fancy packaging Carrillo, and Pauter send with their rods in. There was no spec sheet included, like you would get from Carrillo, and Pauter, I had to obtain all the above specs myself, which wasn't that hard.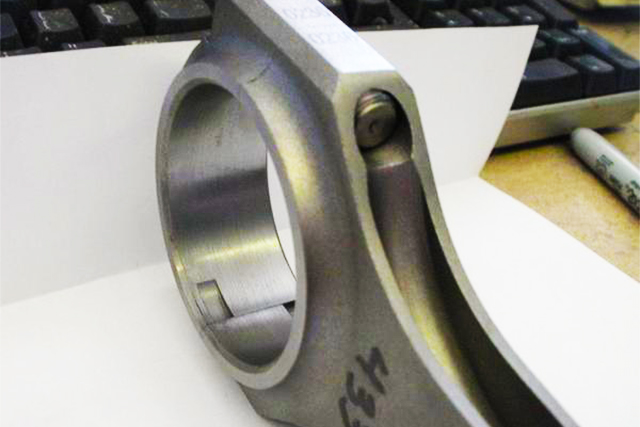 Ok, that's what I was able to discover, now they go off to Tom. A engine customer did see them and decided to get a set , so I'll will now be assembling a vintage MGB race engine using a set of these as well. I guess now time will tell. For $500, or even slightly under, I guess this is worth a try, MaXpeedingRods has 3300+ Ebay feedback and only 4 negative feedback, and nothing negative about their rods, they make a lot of performance items other than rods, so with feedback number of 3000+, they probably sold as much as 10,000 Ebay sales, so overall, that's a pretty good feedback record.
Just for grins, in BB's race motor, his stock 18V rods, with ARP rod bolt, which were stock, other the ARP bolts and balancing were approximately 250 grams a rod heavier than the MaXpeedingRods rods, so that is approximately 2.2 pounds of less rotating mass form the connecting rods he was runnign compared to the MaXpeedingRods.
Ok, I just finished checking the second set of these MaXpeedingRods rods, findings are pretty much the same as I found on the other set, all the weights, top, bottom and total are the exact same, as the other set was, and the housing bore size checked on the Sunnen AG-300 gauge is exactly the same, the big side of the housing bore spec range, 2.0215″.
I found the exact same burr on this set of rods, on the parting line of the top half of the rods, opposite the bearing retaining tab of the bottom, or cap side of the rod, after a little thought, I now realize what is making this little burr, they probably require a good bit of honing initially to get to spec, and they never are separated at the parting line again at this the point of the manufacturing.
So this is the only place on the rod top a burr can develop from excess material being removed during honing, because of the void from the bearing retaining tab on the rod cap, so that kinda explained itself to me. I know that got kinda deep, but it would make perfect sense to anyone who has every re sized connecting rods before, bottom line, you can de-burr it about 2 seconds with file, and then you are done, but I would highly recommend it being done, so this doesn't make it way into the oil stream later.
I used Cometic MLS gaskets on the race 1275s at 15.0 to 1, as well as did Mike Miller and several others, we did this to replace the crazy, expensive, hard to get Comp turbo Metro head gaskets, and they worked great, I sealed them with Permatex Hi Tack spray, we never had a failure with them. I've heard Dave say he had issue with Cometic on the MGB, not sure he ever elaborated on it though. 83mm will not be enough bore size for the 1950cc engine, but sometimes Cometic has gaskets not listed in their catalog, for example they have made BMC 948cc MLS gaskets, but you won't see them listed in anywhere in the catalog.
To go full circle on this, I installed them in BB's motor, side clearance, and all worked out good, as they were delivered. I guess time will tell, so far from what I see, I would buy a set for myself, if and when I need a set of aftermarket rods.
Article source:MaXpeedingRods Connecting rods