Editor's note: At this article, we reach out Michael Crawford to be a reviewer for MaXpeedingRods under the condition that he could be honest about the products.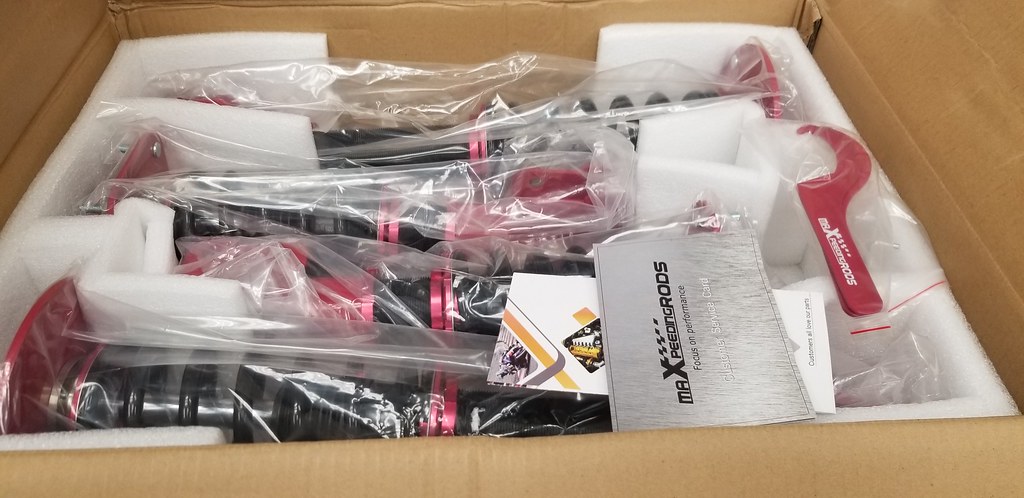 I agreed and selected MaXpeedingRods's top shelf coilovers for SRT4 neons to start with. These have adjustable body/spindle mount locations, adjustable perches, 6k rear and 8k front springs, pillow ball rear and camber plate front upper mounts, and adjustable damping. On paper, really good sounding product!
They were back ordered when I selected. So it took a while for them to come in. That meant that the car I had PLANNED to test them on had been parted out, the shell cut up, and what was left turned into raw materials for more coilovers. So I went about setting them up to use on the ACR.
To do so, I re-drilled the mounting pattern in the rear upper mounts to the first gen 4 bolt setup. The upper pillow ball plates are 3/8 plate, and machines beautifully. Don't know what type of steel they are, but its a good quality judging by the way it works. The bolts holding the pillow ball in are kind of cheesy though. There's no indication they will fail, but they could spend a few bucks extra on higher quality hardware and make it feel like it was an extra $100 improvement in quality.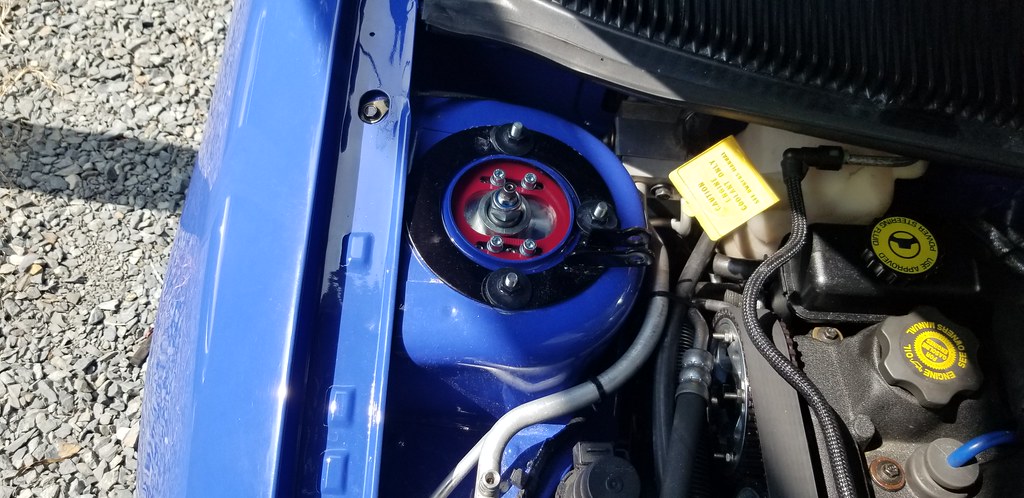 The front camber plates mounted up almost exactly with the first gen strut towers. About half a hole off, and easy enough to deal with. Again, good quality raw materials judging by what I can tell in my garage. The bolts that allow you to adjust camber are pretty soft feeling though. Ill probably upgrade them later.
Otherwise, the machining and raw materials seems top notch. The threads are all nicely machined, adjusters work smoothly, anodizing in the aluminum takes a good shine and holds up to solvents well, material selection is nice and robust. I felt good about installing them in a car that I just completed a full rotisserie style restoration on. The only other thing needed was to shim the spindle to mounting location, as the SRT4 spindles are a lot thicker than first gen. Did it with hardened washers.
When installing, the coilovers (at least these) were set at the factory with a small amount of spring preload, with the adjustment collars tight. The body to spindle mount was left loose. In the rear, I extended the body of the strut as far through the mount as I could to give me all the travel I could get. To match the previous setup, I also had to lower the adjustable spring perch about an inch, thereby giving up an inch of bump travel at the benefit of having another inch of droop travel. Fronts were about spot on out of the box. Only other change needed to the car was that the rear sway bar end links needed to be changed to a spare set of fronts/factory second gen rear.
Reviews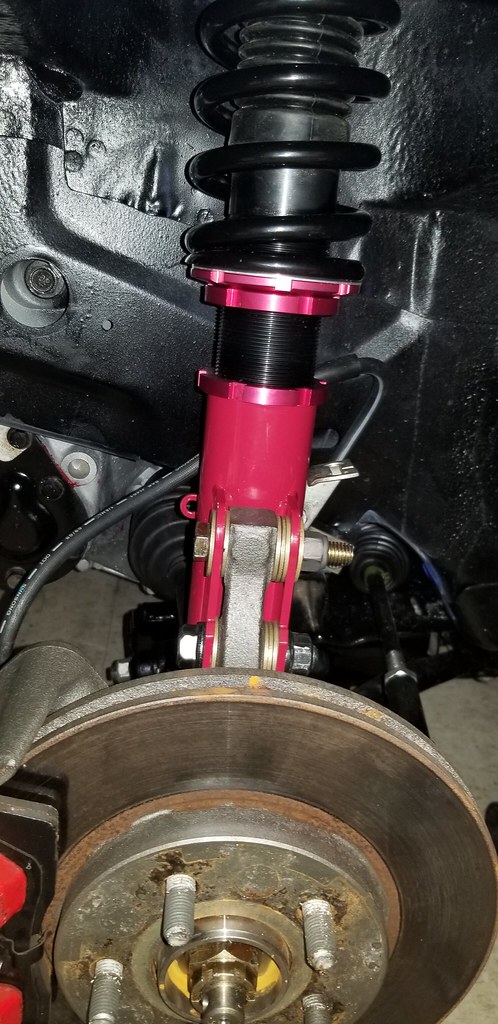 The long story short is that these are ALMOST as good as the k**i yellow/xhd setup. They handle amazingly close (on the street, on street tires) to the konis at medium stiffness (set on full soft. Full hard is ludicrously stiff and responsive), ride similarly, and are way more readily available and easier to adjust. They are harsh over abrupt transitions like tar strips, degraded pavement, and potholes are brutal. I would attribute it to the pillowball mounts and high spring rates. However, for a dual purpose (motorsport/street) car, they will fill the bill and be inexpensive. If I had to dial them in further, I do believe I would go to 6k front, 4k rear springs as a start. Possibly tune bumpstop height from there. They seem aggressively tall, but I haven't found them to be intrusive at this time and setup.
These will remain on my car for a while, i'm so impressed with them. Im not sure how longevity will play out yet, but as this car is a toy I expect them to last a long, long time.
Now, I am being honest with my review. If you're looking at the cost of used k**i yellows, having them rebuilt, finding xhd springs, and getting it all setup, definitely look at these as an alternative. I think it would be worth it. If you're setting up a new locally competitive autocross or time trial car, I would look at them HARD because of their adjustability and ability to corner weight and tune spring rates.