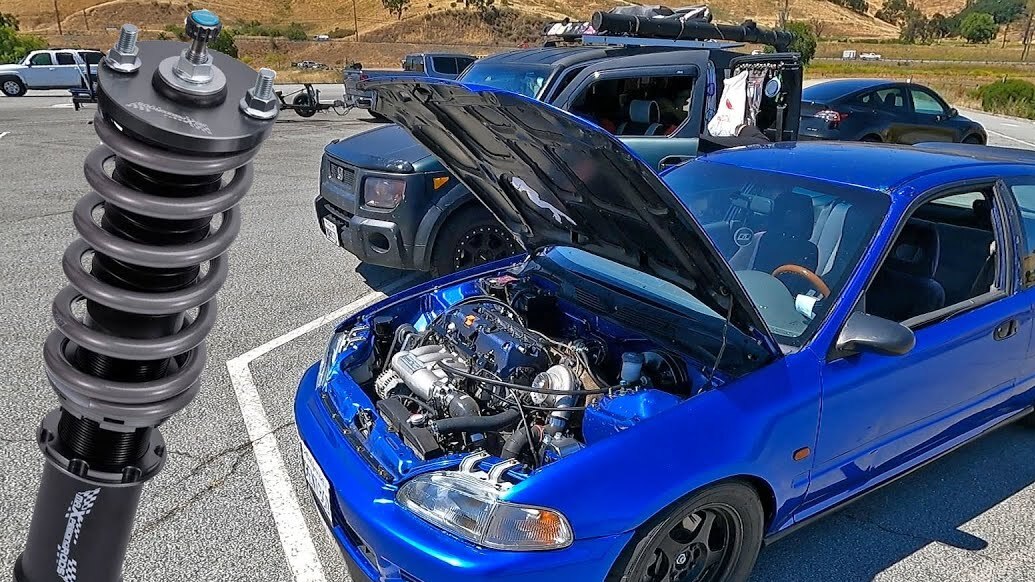 Howdy everyone! Today I want to share you a great video from one of our old friends @YoungStatic on YouTube channel. This video is a real two-for-one deal, folks! It's not just a pro-level review of Maxpeedingrods' T7 coilovers but also a birthday vlog for himself. Picture this: our friend cruisin' in his K24 Turbo Civic Hatchback, slappin' on our T7 suspension, and taking a scenic drive to the lake for a chill but epic birthday celebration. A beautiful road test!
Before hitting the road, our good ol' buddy gave us a sneak peek of T7 coilovers. He told us that the previous model before T7 was T6 (as mentioned 'SP1' in the vid) , which he had used on his all-wheel-drive CRX and is now on his brother's Volkswagen. Our old buddy has hands-on experience with our previous products, so he should be keenly aware of the upgrades in the new T7. Indeed, T7 is still adjustable in damping but has upgraded spring rates at 11k in the front and 7k in the rear, along with an upgraded racing oil in the shock, enhancing performance and handle weight transfer, particularly beneficial for road racing where body roll is a concern. In a nutshell, it's a boost in performance and handling. So, let's not just talk the talk; it's time to take it for a spin and see how it performs.
Let's head to the road then! Throughout the entire journey, the ride was remarkably comfortable, and the vehicle exhibited significantly reduced bounce and impressive solidity with every bump. For his driving style, suspension stiffness is crucial, and T7 coilovers delivered it. They departed from the highway onto city streets and headed to the lakeside. During this process, they conducted some acceleration tests, which resulted in some impressive turbo noises. After a series of acceleration and launch tests, it became evident that T7 provided excellent support for the vehicle. Digs? Rolls? T7 can handle all these maneuvers with ease. And there was no excessive squatting or bouncing. Additionally, they embarked on a few twisty road runs, which, considering the tire setup (all-season tires), led to some understeering. Granted, He had to downshift to increase RPM, and the vehicle was eager to spool up with Maxpeedingrods GT3582 turbo. Nonetheless, T7 coilovers felt great in twisty sections, during launches, and in casual driving. In comparison to previous coilover models he has tried.
After a delightful drive, they arrived at their destination by the lakeside. YoungStatic kindly performed a shake test for us, where he manually rocked the vehicle, and the car hardly swayed. Next, he invited his friend to sit at the rear of the car, and it still didn't sag too much. It performed quite well, especially considering that his car was not particularly low to begin with. This level of support and minimal sagging, even with an extra passenger, demonstrates the effectiveness of our upgrades, the upgraded rear spring rate 7kg/mm. And our buddy, well, he's a firm ride enthusiast through and through. He cranked up that preload in advance, and with spring rate upgrades like that, who can blame the car for standing strong and unshaken?
And then, it's time for a birthday celebration. Beneath the tranquil, breezy lakeside, a puppy peacefully slumbers, bathed in the soft glow of a birthday celebration. Good friend here, sharing laughter and delectable treats, as they cherish the simple joys of life, surrounded by the gentle embrace of nature's beauty. Better late than never, happy birthday buddy! Maxpeedingrods is more than happy to accompany you on this birthday journey.