Home charging is substantially cheaper and 2/3 the cost of DC fast charging. If you're looking for buying your first electric car, here are some factors every EV driver should consider when installing an EV charger.
Charging Rate: Up to 8X Faster
Wall outlets just don't cut it anymore. recharge at 40-plus miles of range per hour to your EV with MaXpeedingRods. a 240-volt Level 2 home charger that delivers up to 40 amps of power, it will remove the anxiety that goes with finding an unoccupied public charger. Most drivers will use 40 amps. Also, MaXpeedingRods charges Tesla cars with a Tesla-provided adapter. It can charge any EV, including your next one.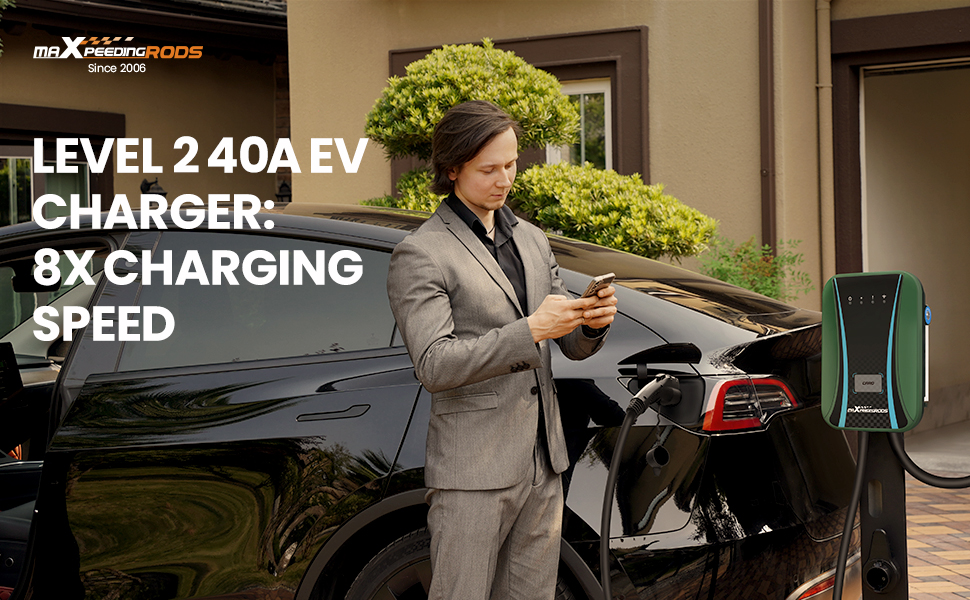 Charging Station Matters
Most of all EV drivers have garages, but some may install their charging stations outdoors, which means less protected from the elements. So, you need to pay attention to the durability of chargers: Make them suitable for exposure to sun, wind, or other outdoor elements. ENERGY STAR & UL listed, and NEMA TYPE 4 waterproof case, the MaXpeeingRods EV charger features a durable case, other home stations are "upgraded" at NEMA 4. It even can operate in environments of -30℃ to 55℃ (-22°F to 131°F).
Installation Doesn't Have to Be Hard
Nobody wants to spend hours and hire electricians to install a charging station. Installation costs should be taken into consideration when purchasing EV charging equipment. The MXR EV charger (plug-in version) is easy to mount on a wall or pole, if the socket is prepared, it can be installed in 15 minutes.

Convenient, Connected, and Smarter
The MaXpeedingRods charger is connected to your home WiFi, Through the simple and intuitive dashboard, it provides detailed energy output and charge time, and you can set up customized charge times to take advantage of different electricity pricing.
Then, with 24 charging cables, longer than most home charging stations of comparable price, the MXR EV charger longer cord is helpful if you don't want to move cars around.
Public electric rates vary at different times of the day. With MaXpeedingRods WiFi connectivity, your home charger can avoid charging your car automatically during peak times, which will cut costs down and reduce the toll on the power grid.
Why Trust MaXpeedingRods
MaXpeedingRods has spent more than 15 years in the automotive industry, in the last few years, MaXpeedingRods engineers work to ensure that every product sets the standard for ease of operation while staying true to durability, quality, and reliability. They serviced more than 4 million people and set the industry standard for safety, quality, and customer support.  Most people choose to invest in MaXpeedingRods because they are high quality and affordable.
They are happy to discuss your needs at any time so just call on 213-459-3517 and one of our experts will be available to help.
Hotline:213-459-3517 (US)
Email:supportus@maxpeedingrods.com
Official Website: www.maxpeedingrods.com