MaXpeedingRods has upgraded almost all types coilovers, so what the upgrades of new T6 series coilover?
T6 serises, which provides a variety of new features for the MaXpeedingRods' street performance segment. Whether your vehicle is suffering from fatigue and high mileage, or if you are in the market to spruce up your overall driving experience, the T6 series coilovers strike a perfect middle ground between street usability and durability, with performance adjustability and handling characteristics.
Adjustability:
The T6 series coilovers provide a considerable level of adjustability to ensure every user can tune and tweak their coilover's settings to provide the best performance.
One of these features is adjustable dampening, with 24 optional settings. Regardless of road conditions, if you are looking for a smooth ride over city streets or the sporty and stiff feel around the apex of a corner, the T6 coilovers will perform.
Another feature of the T6 coilovers is an independent shock body, allowing for users to adjust their vehicle's ride height to their needs, while not compromising the spring rate or suspension travel. Consequently, this also allows the user to adjust spring preload without affecting the ride height, resulting in easy spring rate adjustments to change the balance of the vehicle, without adversely affecting its stance.
The T6 series coilovers also include an adjustable camber and caster plate. This is a substantial upgrade over factory suspension and is also not commonly seen on other suspension options. Given the adjustability in both camber and caster, this allows the user to refine their alignment, further personalizing their vehicle's handling characteristics.
Materials:
In street performance applications, finding the balance between strength and weight, and reliability are the key components to an optimal design. MaXpeedingRods has combined both strong and equally lightweight materials to achieve this balance while maintaining reliable operation.
To keep weight down while retaining a rigid structure, the majority of the T6 coilovers utilize 6010-grade Aluminum. Parts such as the spring perches, lock collars, and the camber/caster plate are all aluminum.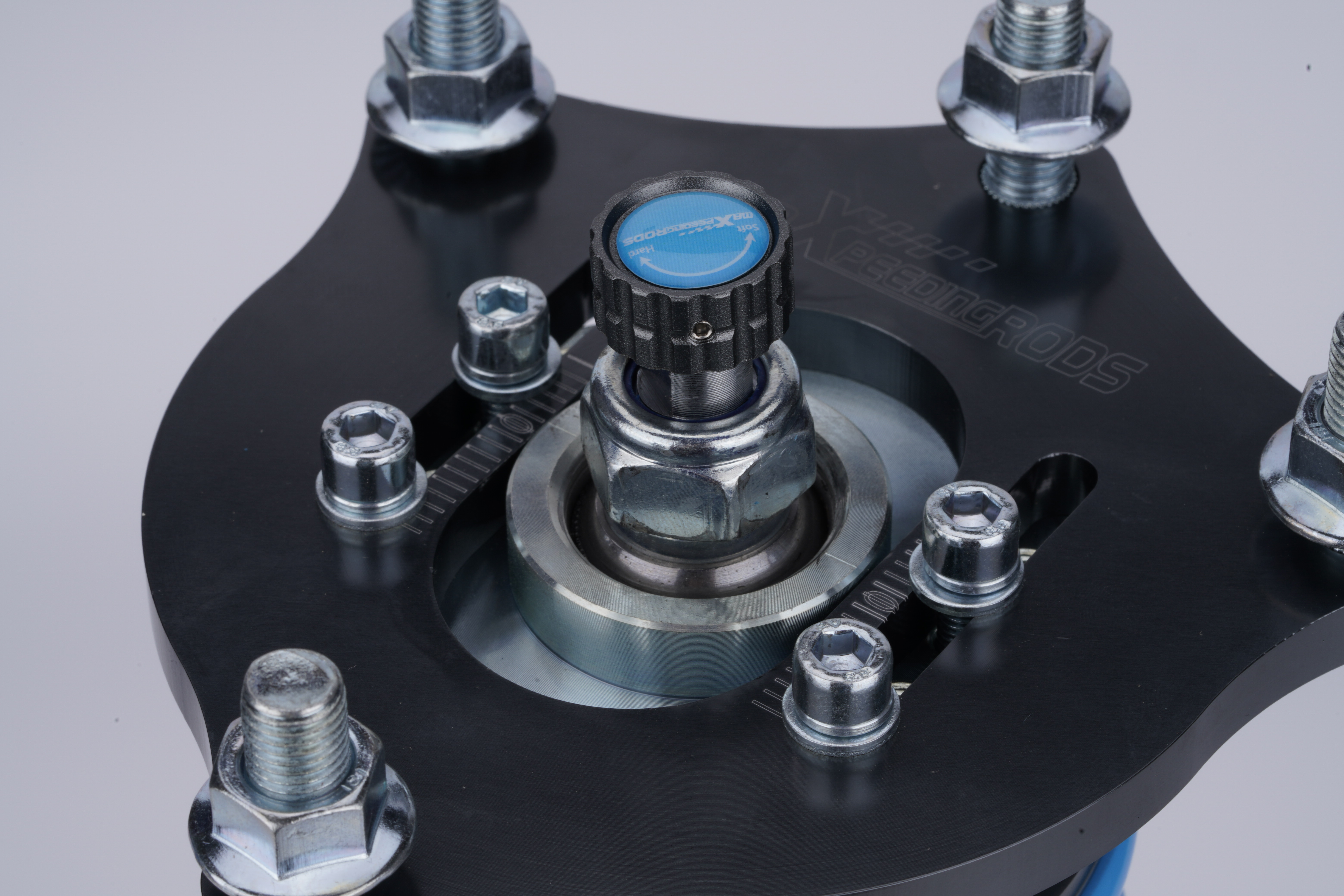 In areas of greater stress and load, the parts materials are upgraded to carbon steel to ensure safe and durable operation. This includes the damper shaft and lower damper housing.
The T6 coilover's new damper design includes a revised oil that improves the consistency of viscosity despite temperature change. This allows the damper to sustain a smooth stroke over its entire travel in multiple circumstances.
The spring is of race-grade 55CrSi spring steel, further ensuring strength and reliability.
Durability:
The T6 series coilover has undergone rigorous testing both by machine and people to prove strength and reliability. By putting these coilovers in the hands of real people, and also subjecting them to the harsh testing of a machine, MaXpeeding rods have been able to determine that the T6 series is suitable for street use, simulating both real life and extreme scenarios.
The race-grade springs are also put under their own tests, undergoing up to 600,000 compressions cycles ensuring sufficient tensile strength.
The 24-way dampers have been thoroughly tested for quality before final assembly. Helping increase its longevity, rubber bump stops and boots are installed to reduce dirt and debris ingress.
All components of the T6 series coilovers have been treated to fair against weather and corrosion. The 6010 aluminum components are anodized, while all other steel components are coated to block oxidation and corrosion.
It is noteworthy that all aluminum components of the T6 coilovers are CNC machined. Compared to conventional stamped steel or cast parts, CNC machined parts are held to a high level of accuracy to provide perfect fitment every time. Alongside pinpoint accuracy, choosing to machine the material allows for greater resistance to bending such as a stamp steel part, and fewer chances of snapping as a part. Overall, the refined CNC process allows for a higher standard of quality overall.
Conclusion
In conclusion, the MaXpeedingRods T6 series coilovers are an extremely versatile and robust suspension solution. Higher degrees of adjustability in ride height, spring rate, dampening, caster, and camber adjustments give these coilovers extreme potential in breathing new life in your vehicle. High-grade materials and refined production processes allow for trustworthy strength on the road or on the track.
Now, MaXpeedingRods provide HONDA, Ford, BMW, Acura and almost all classic type vehicles, click here to get more information.