As we've mentioned in previous articles, MaXpeedingRods has been diving into the development of ECU for some time. Today we announce with pleasure that our new ECUs are available on all of our websites as well as our official online shops on the e-commerce platforms such as Amazon and eBay.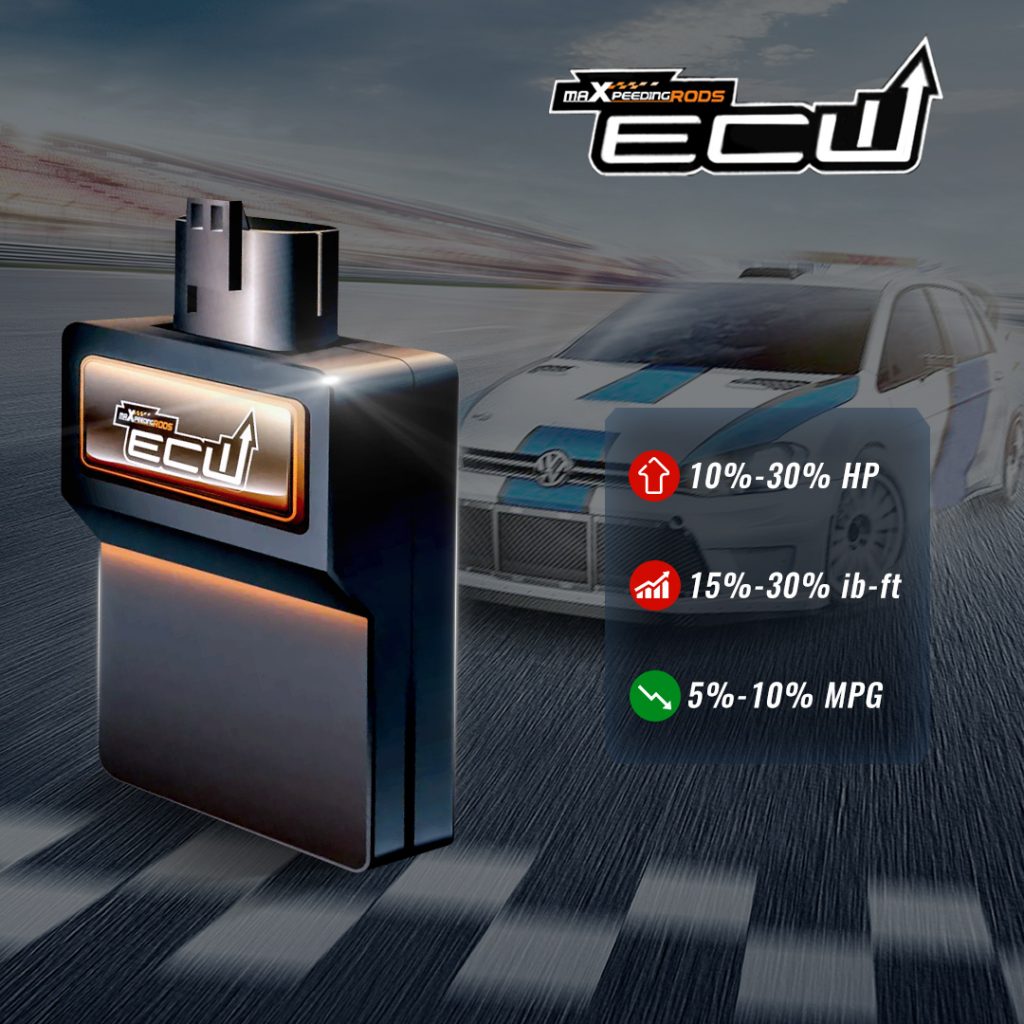 What car models are covered?
We've released six new ECUs perfect for many car models with EA888 engine, most commonly seen in Volkswagen, Audi, SEAT and Skoda. Besides the EA888 engine, we have also released the ECUs for Toyota, Ford and Jeep models. Check the link for specific information: MaXpeedingRods ECUs for Audi Volkswagen Jeep Ford SEAT and Skoda
For more detailed information about the models covered, please check the relevant description.
How great on earth is the performance of MaXpeedingRods ECUs?
To constantly optimize the performance of MaXpeedingRods ECUs, the MaXpeedingRods R&D team has done a lot of testing on many different engines and models. Below are the test reports.
Test Vehicle: Jeep Wrangler 2.0T
Original Horsepower:266HP
Upgraded Horsepower:312HP
Original Torque: 400lb-ft
Upgraded Torque: 542lb-ft
The output of the horsepower increased 17%, and the torque went through a 35% growth. 
Test Vehicle: Volkswagen Passat 2.0T
Original Horsepower: 220HP
Upgraded Horsepower: 304HP
Original Torque: 350lb-ft
Upgraded Torque: 484lb-ft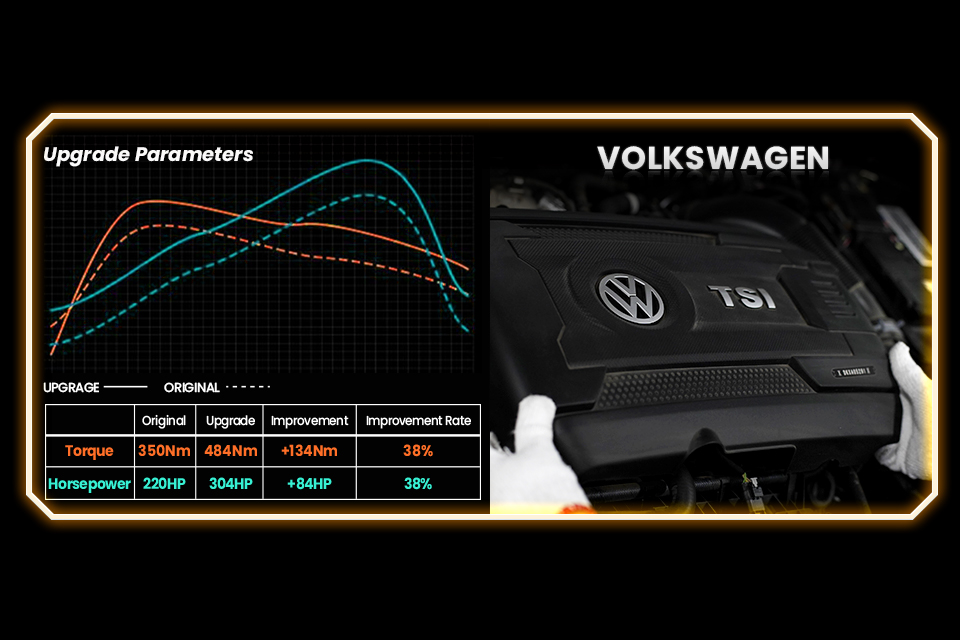 As we can see from the picture, the output of the horsepower increased 38%, and the torque went through a 38% growth, which is a remarkable result.
Test Vehicle: Ford F150
Original Horsepower: 301.2HP
Upgraded Horsepower: 333.2HP
Original Torque: 439.9lb-ft
Upgraded Torque: 498.9lb-ft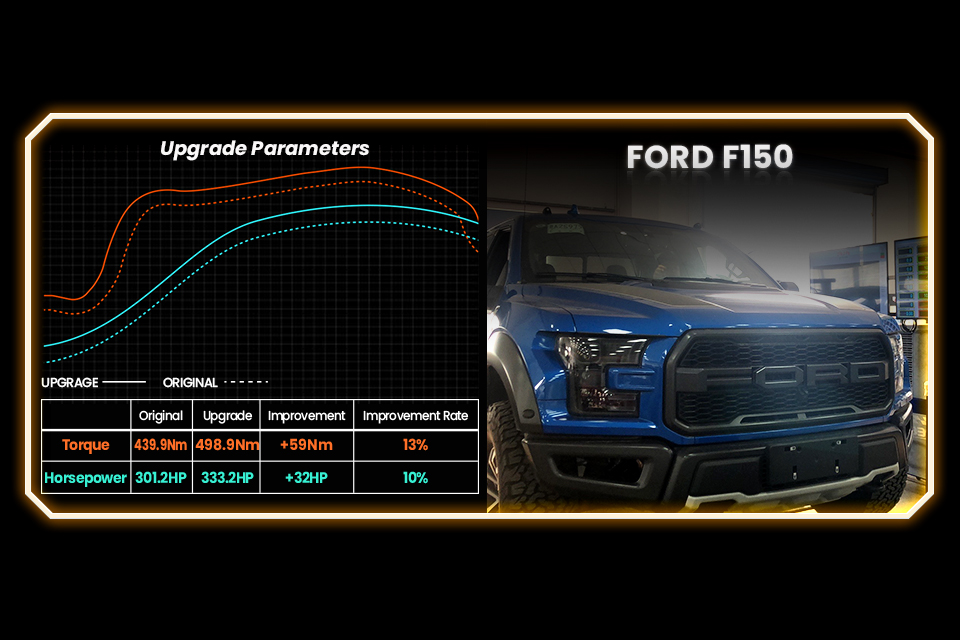 The output of the horsepower increased 10%, and the torque went through a 13% growth. 
Information you may be curious about MaXpeedingRods ECUs
What is MaXpeedingRods ECU? 
MaXpeedingRods ECU is a fully functioning external computer. It is a supplementary computer that is programmed to contain the optimum fuel and ignition adjustments for each individual engine; It runs with our own software that we modified to optimize the electronic signals to and from the engine, which can improve the parameters set by the manufacturer. it can unlock more than 10%-30% horsepower, 15%-30% Torque and 5%-10% fuel saving. You can make the most of your car's potential performance.
How does MaXpeedingRods ECU work on my vehicle?
MaXpeedingRods ECU can be installed on any vehicle with an ECU, which means that it does not permanently change or reprogramme the inputs from your vehicle's original ECU, it simply intercepts the signals changes them as required and sends them to the various engine components, as as to horsepower improvement and fuel saving.
Can I still use my MaXpeedingRods ECU after switching to a new vehicle?
We optimize the parameter for the particular engine. if the new vehicle has exactly the same engine, you can unlimited re-use our ECU.
Will MaXpeedingRods ECU bring harm to my engine?
No, it won't cause any harm. Reprogramming the vehicle's Electronic Control Unit is risky and you may not revert to the standard settings if something goes wrong; MaXpeedingRods ECU has no physical changes made to the engine. Besides, we have a 2-year warranty to make sure your comfortable use.
Will the MaXpeedingRods ECU affect my vehicle's warranty?
No. It does not affect the original car warranty and quality inspection. The MaXpeedingRods ECU Connect system is easy to remove and reinstall by simply reconnecting it to your vehicle.
Can I install MaXpeedingRods ECU easily?
Yes, MaXpeedingRods ECU is simply installed by connecting to the wires of the original factory E.C.U. We supply you with worry-free and simple installation, we have pictures and video instructions to help you. you can DIY it by yourself via few easy steps.
Can I remove the MaXpeedingRods ECU and return my vehicle to series condition?
Yes, you can remove it as you wish, and then restore the original settings of the original ECU.