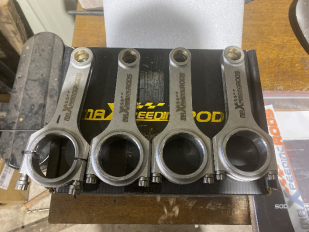 Editor's note: The aftermarket engine parts scene has changed as time goes by. In this article, Jermaine Kinge will be going over the connecting rods made by MaXpeedingRods and giving his honest outlook on them after a few years of real world testing.
Blance test: 120 gram saving per rod
Looking at the connecting rods out of the box, they come supplied as standard with 3/8" ARP2000 bolts. However, an upgrade to stronger L19 bolts is also available.
MaXpeedingRods claim that they are balanced to a tolerance of +/- 1 gram per connecting rod, which is an acceptable tolerance for a set of rods. But let's not take their word for it and instead weigh them ourselves to verify their claims.
Straight out of the box the connecting rods weighed in at:
543 grams
542 grams
542 grams
542 grams
As above, they are exactly as claimed, with only one rod being 1 gram heavier. This is a very well-balanced set of connecting rods, especially for the price. For reference, a standard CA18DET connecting rod weighs in at 669 grams. That's approximately a 120 gram saving per rod, saving you 480 grams in your rotating assembly. This is a huge improvement.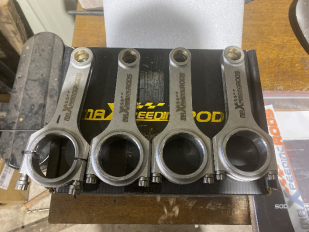 Real world testing
Let's move onto real world testing now.
These connecting rods have lived in my CA18DET since 2019, where it was built with just a connecting rod upgrade.
The engine then produced 356HP at the flywheel with a 7600RPM limit for 10 months, in which it was abused constantly. From burnouts to drift days, the engine was sitting on the limiter for minutes on end.
Unfortunately, the engine ultimately suffered from failure. However, it wasn't the connecting rods that failed. It was a standard piston that melted, along with all the shrapnel going into every other cylinder and there destroying every single piston along with the cylinder head.
Now you would think, surely the connecting rods took some damage too as expected, but to my surprise, they all still looked intact and in good condition at that.
The engine was then rebuilt with forged pistons, reusing the Maxpeeding connecting rods that had been removed during the failure. The engine has been running ever since 2021, receiving the same abuse as prior and although the connecting rods had been involved in a previous failure, the bearing clearances for the new build were still spot on.
Final thoughts
To give my final thoughts, while these connecting rods are far less expensive than those from other manufacturers, they are absolutely not inferior in quality.
These connecting rods have well beyond my personal expectations, and I'm more than happy to use them in any future builds I may start. These are serious quality for your money, and I'm looking forward to MaXpeedingRods continuing providing more economical, high-quality parts for consumers like me!