MaXpeedingRods has announced that they are releasing an exciting new T6-series coilovers. The MaXpeedingRods T6-series coilovers are not only keeping their competitively priced, but they also provide a variety of new and exciting features.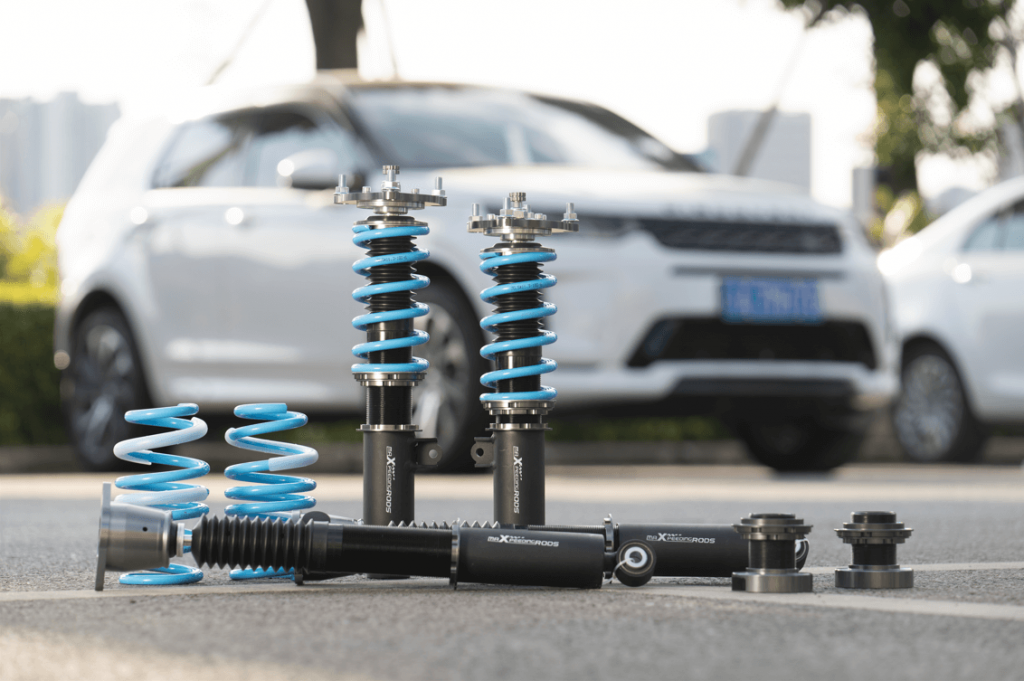 How are they made?
The MaXpeedingRods T6 series coilovers are made from the highest quality 6010 grade aluminum. This means they are lightweight while still being durable. It may be a bold statement, but you can say that MaXpeedingRods may have found the perfect marriage of strength, weight, and reliability.
All of the spring perches, lock collars, and camber/caster plates are made from aluminum as well. The areas that seem to take the greater amount of stress and weight load have been upgraded to carbon steel to ensure safety and long lasting durability. The spring itself, however, is made from race grade 55CrSi spring steel. This only helps to ensure supreme strength and reliability. Also, the T6 series coilovers new damper design utilizes a new oil that maintains a stable viscosity throughout a vast range of temperatures to sustain a constantly smooth stroke and reliable damping force throughout a variety of conditions.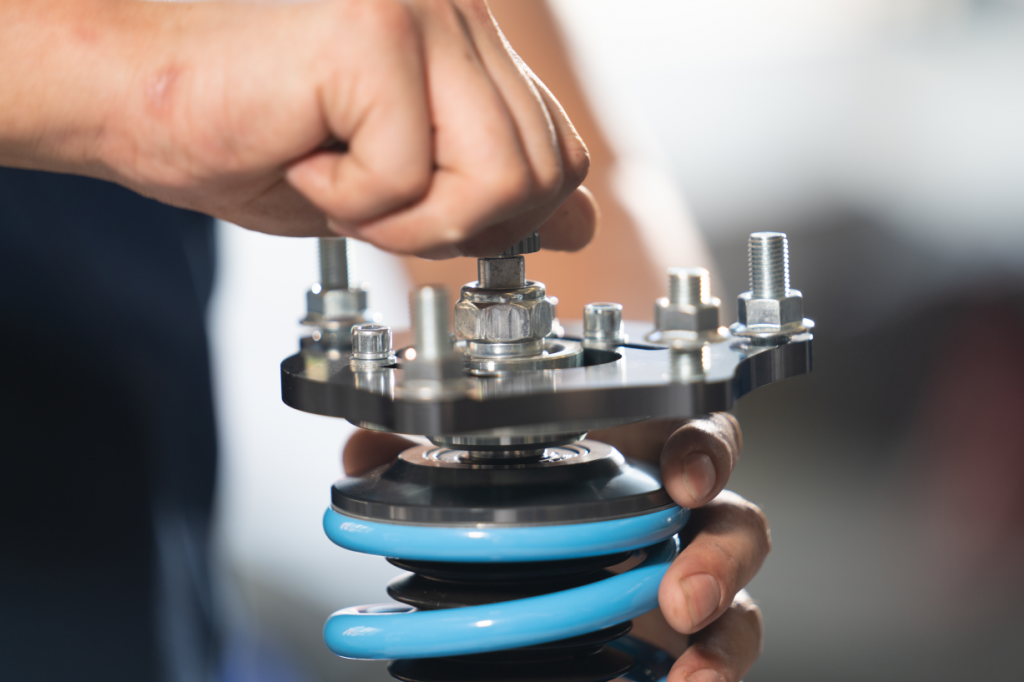 Find your perfect adjustability
Want to know why these new coilovers are going to be the new big trend? Well, it has to do with their adjustability. These T6 series coilovers provide a considerable level of adjustability to ensure that the user can tune and tweak their settings to what fits their setup the best. One feature that they have is adjustable dampening with 24 optional settings. This is able to be adjusted by turning a double-sided piston and valve system. This means that regardless of the road conditions you can set up the perfect right height to ensure a smooth ride on those pesky city streets or get that sporty, stiff feel as you take those tight corners.
Another amazing feature of these coilovers is that they have an independent shock body. This allows the user to adjust their ride height to their liking and needs. No longer do they have to compromise the spring rate or suspension travel. This also allows you to adjust spring preload without affecting their ride height. What exactly does this mean? This means that you-the user is able to easily make spring rate adjustments that will change the balance of your vehicle without affecting the stance.
The T6 series coilovers also include an adjustable camber and caster plate. This is a significant upgrade from the factory suspension. One that is not common with other companies' suspension upgrades. The adjustability in both the caster and camber allows you to easily refine your alignment. This is just another way you are able to personalize your vehicle's handling to meet your specific needs.
Just how durable are they?
Still need more convincing on why you should give your vehicle the love it needs and make this upgrade? Well, the T6 series coilovers have undergone rigorous testing by both machine and people to prove their strength and reliability. That's right these are double tested to ensure their quality. Using both rigoring machine testing as well as human drivers for testing, MaXpeedingRods is able to recreate and simulate both real life and extreme road scenarios to ensure their product is top notch. As if that wasn't enough reinsurance. The springs are also put under their own test in which they undergo up to 600,000 compression cycles to ensure their tensile strength. The 24-way dampers have also been put through rigorous testing to ensure supreme quality before assembly. Rubber bump stops and boots have been added to reduce dirt and debris and ensure longevity.
All components of the T6 series coilovers have been treated to withstand weather conditions and corrosion. The 6010 aluminum components are anodized while the steel components are coated. All components are CNC machined. This is different from most parts that tend to be made of conventional stamped steel or caste parts. Why is this noteworthy? Well by choosing to CNC cut the parts they are able to ensure a high level of accuracy. This ensures that you will have perfect and uniform fitment everytime. Not only are you getting extreme accuracy but you are getting a material that allows for greater resistance in bending than you get with stamped steel or caste parts. This means less chance for snapping and breaking.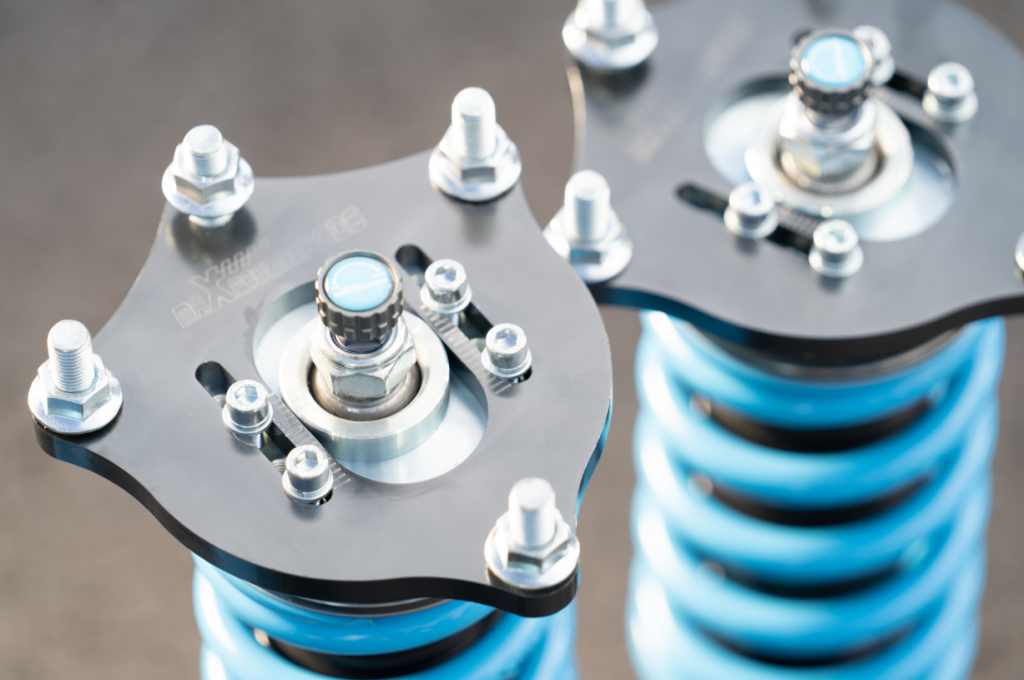 Whether you are a serious racer or just looking to improve the quality of ride for your street car- these new coilovers are perfect for your build. They are the perfect combination of street usability and durability while still giving you that professional performance adjustability and handling.
For more T6 series coilovers information: www.maxpeedingrods.com