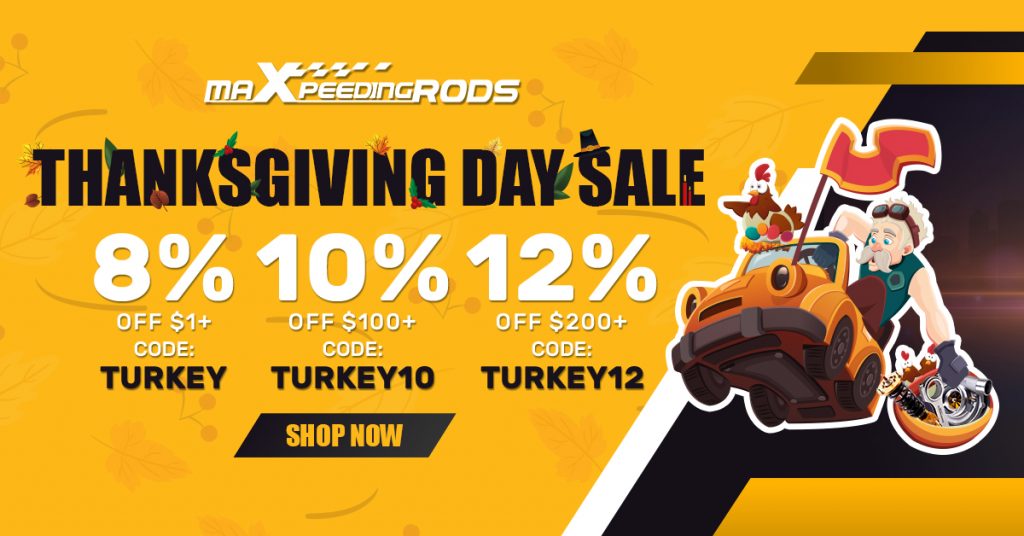 What will occur to you when it comes to Thanksgiving Day, turkey, ranberry sauce or pumpkin pie?
Thanksgiving was founded to appreciate the blessing of God. However, many years later, it was given more profound connotations. Today it becomes a family holiday. Husbands, wives, children and elderly people all over the country, from city to town, from town to village, all return to their hometown to spend the holiday together. 
Everyone gets together to share the joy of gratitude and thanks God for his grace, we are no exception. To thank you for your heartfelt support and love, MaXpeedingRods has prepared a big surprise for you guys. We've launched our Thanksgiving Day Sales which lasts only for a month with the best prices and sales. Parts like Coilovers, Turbochargers, carburetors and many other accessories are included.

Orders over 1$: Use code "Turkey" to get 8% off
Orders over 100$: Use code "Turkey10" to get 10% off
Orders over 200$: Use code "Turkey12" to get 12% off
The more you buy, the better discount you'll get.
"When life gives you lemons, make lemonade." The year 2020 is already tough for most of us, why not reward yourself for a year's hard work with a "gift"?
Don't hesitate! Just go and click on the link to enjoy your special discount!
Welcome you guys to share with us your Thanksgiving stories!