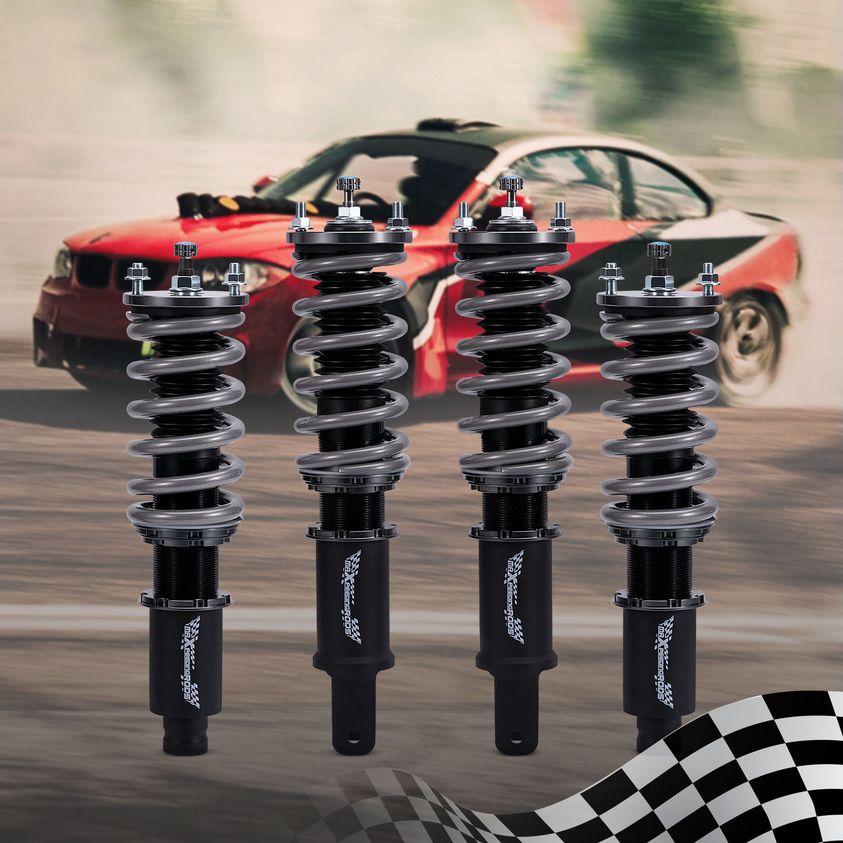 As MaXpeedingRods, we are thrilled to announce the launch of our latest addition to our suspension equipment line-up, the T7 series coilovers. But are you ready to take your driving experience to the next level? The T7 series features a host of improvements and changes over our previous models, as well as other brands, that will allow you to customize your ride. From daily street driving to occasional track use, the T7 series coilovers are designed to enhance your control and performance while providing superior durability.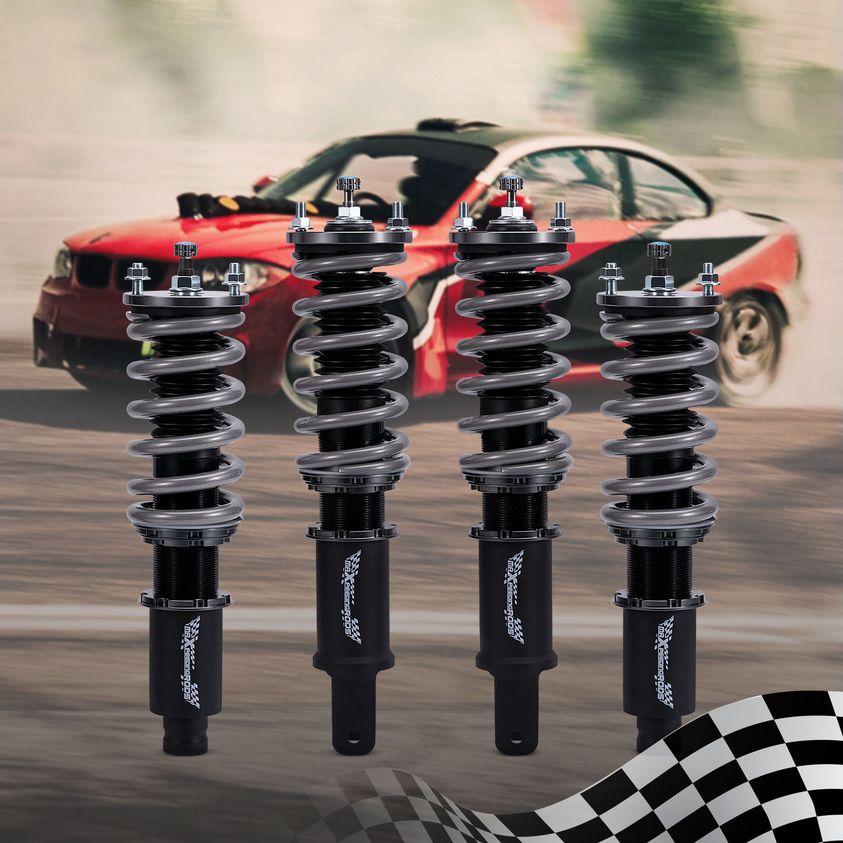 What MaXpeedingRods T7 Coilover Series Upgrades
MaXpeedingRods T7 series coilovers is the redesigned lower shock mount, including an integrated sway bar mounting point on the front coilovers. This assists with following a factory-style mounting solution for the sway bar end links and is less prone to bending or failure.
Additionally, the steel body of the mount itself is thicker, with an integrated locating pin for centering into the knuckle. The T7 series also features updated spring rates that improve overall balance and handling around corners and a new design for the top hats that allows maximum camber adjustments with no interference. Overall, the T7 series offers new and improved changes for better durability and adaptability, making them an excellent choice for an entry-level coilover.
Key Features About the MaXpeedingRods T7 Coilover Series
Are you ready to upgrade your old suspension and hesitating which one is what you want? Please keep reading to learn about its features and benefits.
CNC Machined Aluminum Top Mounts and Lockers
The updated top hats are still made of thick 6061 aluminum but with a new design featuring a recessed center, making camber adjustments substantially better. In addition, the new design eliminates interference with factory shock towers, allowing for maximum camber adjustments.
Redesigned Lower Shock Mounts
The T7 MaXpeedingRods series features new shock mounts, including an integrated sway bar mounting point on the front coilovers, assisting with following a factory-style mounting solution for the sway bar end links. These new mounts are rigid and less prone to bending or failure, making them more durable in harsh track conditions and daily street driving.
Revamped Steel Body
The steel body of the mount itself has also been revamped in the T7 series, with considerably thicker metal and an integrated locating pin for centering into the knuckle. This new design improves durability and enhances performance in different driving conditions.
Racing Damping Oil & Improved Spring Rates
Having racing damping oil and spring rates set for occasional track use and daily street use in a coilover like the MaXpeedingRods T7 series allows the user to adjust the suspension to their desired settings for both street and track driving. The adjustable damping allows for fine-tuning of the suspension to provide better handling and stability during high-speed maneuvers on the track while maintaining a comfortable ride for daily street use. The spring rates are designed to handle the increased demands of occasional track use while being compliant enough for everyday driving.
Adjustable Twin-Tube Shock Inserts
The shock inserts provide 24-way damping adjustability, allowing users to dial in their driving experience for any desired situation they need. This feature provides greater flexibility in customizing the coilovers, especially for driving on bumpy roads.
The shock absorbers for the T7 MaXpeedingRods coilover series have several features, including long rubber boots that protect the damper and improve durability, a twin-tube structure that provides excellent handling and control, and a corrosion-resistant finish consisting of anodized aluminum and powder-coated carbon steel parts with a matte finish surface.
Lowered Height Adjustment
The T7 MaXpeedingRods series has addressed the issues found before and now features a lowered height adjustment range of 1″ – 3″ (depending on the vehicle model) that allows for a lower center of gravity and a more aggressive stance, all while maintaining the desired ride height.
Redesigned Lock Collars
The latest version of lock collars is completely redesigned for more positive engagement with their supplied coilover wrench. These lock collars are also completely flat on one side, preventing the dreaded issue of slipping off the collar when tightening or loosening them.
Competing Price
The T7 MaXpeedingRods series represents the best bang for buck coilovers. Its design and quality set it apart from other coilovers in the market. With the T7 series, drivers can have the ultimate driving experience, whether on the track or on the street, for a very affordable price.