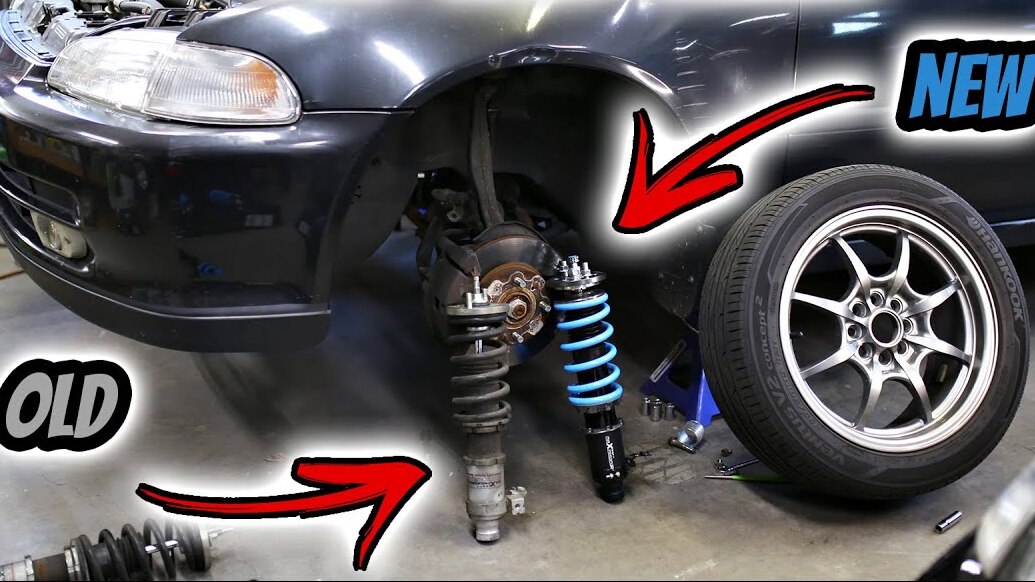 Hi everyone! So excited to share an amazing video by our old friend @CRXseth on Youtube channel! This time, we will follow the author's smooth camera work to get acquainted with our T6 coilovers (as mentioned 'SP1' in the vid). His previous coilovers also came from Maxpeedingrods. Thus, we can gain insights into what Maxpeedingrods' products have upgraded. The author's video is known for its beautiful music, seamless camera movements, and detailed explanations. Join us! It's like watching an ASMR video!
At the beginning of the video, @CRXseth removes the old coilovers from the car. They have been his daily driving companion, covering roughly 50 miles every day, for over a year now. Despite a bit dusty, and a little rust on the threads, they looks great and just needs a little cleaning to be almost like new. Clearly, they have been reliable companion because it has made driving comfortable, far superior to the factory suspension, judging from his statement that he will de-rust them and preserve them for future use if needed.
However, the spotlight of the video is on Maxpeedingrods' T6 coilovers. Our friend compares the old and new models side by side, highlighting the noticeable differences. In terms of appearance, the T6 coilovers look beefier and sturdier. And the author points out an detail – the presence of a shim between the spring and collar to minimize squeaking noise. The video then showcased a brief installation process. For those seeking a detailed installation guide, please refer to our previous video sharing blogs.
Judging solely by looks, we can't make a complete assessment. Let's see how the T6 performs on the road! He then took our T6 for a ride, and from the video, you can see that it was a very smooth drive. The results are clear: the T6 coilovers provide even a tighter and more responsive ride compared to the old ones. It's a significant upgrade for daily driving, and just as we aim for, COT6 coilovers promise better driving comfortability.
Overall, we're thrilled and honored that both the old and new coilovers from Maxpeedingrods have given our friends a satisfying ride. This is also our mission: taking 'good' and making it 'great'!
Last but not least, we extend our heartfelt thanks to our friend @CRXseth for sharing this informative and engaging video. Maxpeedingrods is thrilled to be part of these exciting automotive moments with you all! Stay tuned for more updates, and don't miss the opportunity to upgrade your vehicle with Maxpeedingrods' cutting-edge coilovers. Your journey to enhanced driving starts here.