The holiday season is here, and it's time to party with friends and family. But the experience will not be complete without a portable generator. Because you may be stuck in a huge storm-related blackout in the middle of a party, or you may want to party outdoors. Having a portable generator handy, will help with unforeseen circumstances such as frequent power outages, outdoor activities, and family backup power reserves. A generator that meets the basic electricity needs of a normal family can be the solution to your emergency. Dual fuel generators are currently popular on the market, which means you can run them on two types of fuel, GAS, and LPG. Try to invest in a dual-fuel generator for backup.

Dual Fuel Inverter Generator Buying Guide
Before choosing a dual fuel generator, you must carefully consider the features of each generator and balance their importance in connection to your application. There are some features to consider before purchasing.
Think about the power the generator can produce. There are two distinct output ratings for each dual fuel generator: Rated and Peak output.
2. Generator size
This is a key consideration if you wish to move your generator around. If you're considering purchasing a generator that can be useful in more situations, be sure to consider the generator's size and weight. The size and weight of heavy-duty generators are often much greater than those of low-power generators. Thus, a more powerful generator with limited light would be a better choice.
3. Fuel capacity
Since dual-fuel generators can run on GAS and LPG, they have unique fuel tanks. If you have a large fuel tank, you will enjoy long-lasting power output without occasionally refueling the generator.
4. Sound levels
Internally, dual fuel power generators are powered by GAS or LPG. When they are running, some generators emit a loud noise. But as a machine that runs around people all the time, quiet and non-disturbing is our most basic need. So take into account selecting a dual fuel generator that has a reduced noise rating.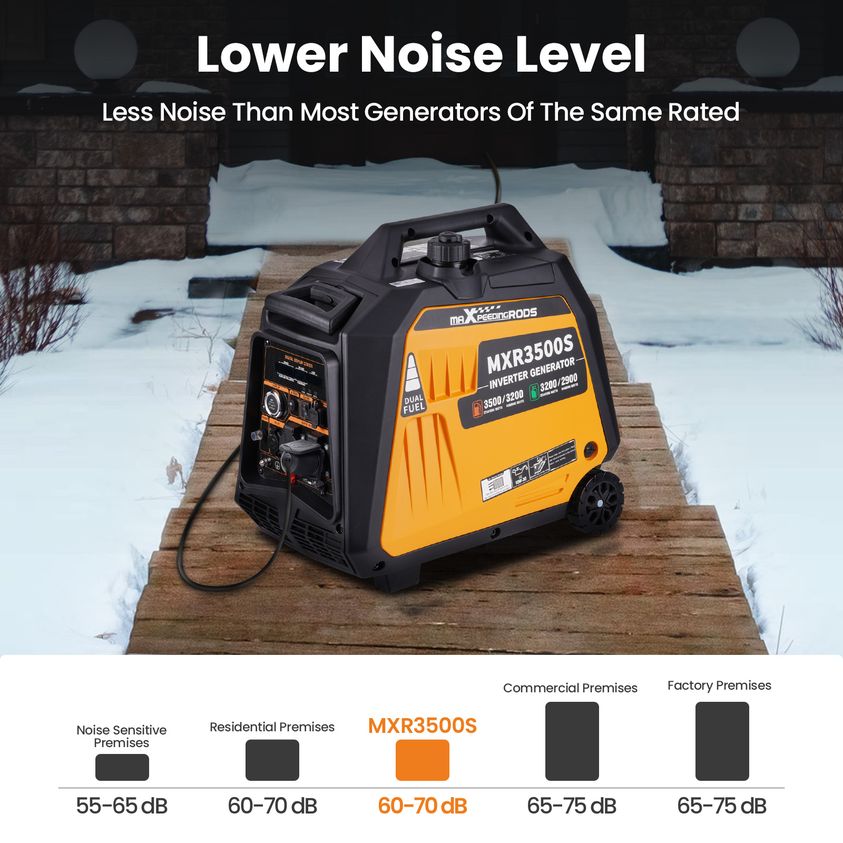 5. Engine performance
Pay attention to the generator's engine efficiency. Engine efficiency essentially relates to how effectively fuel can produce energy. Gas will exit very quickly if the generator's engine is inefficient. Check the fuel consumption rate before selecting a low-power engine. Lower is preferable!
Following these guides, I chose Maxpeedingrods 3500W dual fuel inverter generator as my preferred backup power. Considering how effortlessly it powered my RV using a 30 amp converter and a 120-volt connection, I found this generator to be an outstanding value.
Features
• Dimension – 24.8 x 21.5 x 16.2 inches
• Running Watts – 3200W(Gas)/2800W(LPG)
• Peak Watts – 3500W(Gas)/3100W(LPG)
• Product Weight – 55 pounds
• Fuel Tank Capacity – 1.6Gal
• Outlets – 2x 120V 20 Amp Outlets; 1x 120V 30 Amp Outlet;2x USB Outlets
• Voltage – 120 Volts
Benefits
Inverter technology – Pure sine wave, supporting sensitive appliances.
Overload protection – Automatic low oil, carbon monoxide (CO) shutdown.
ECO mode – Fuel efficiency and reduced noise.
Portable – Compact shape, suitcase design with pulleys.
Advantages
Ease of use – Maxpeedingrods 3500W dual fuel inverter generator can be operated with almost no need to check the manual. When I first start it up, all the buttons and commands are clearly displayed on the unit and I had no trouble running it. Certainly, if you encounter any questions, the detailed manual is also available to help you out.
Multipurpose power source – The dual fuel design uses both GAS and LPG, you can easily make a switch between the two fuels. It achieves the economy and convenience of fuel use to a large extent.
Simple Start – The generator kicks off in a matter of seconds, thanks to its rapid start technology, which provides two start options to select from Push Button Start and Recoil Start.
Extra-long operating time – You can increase the length of your runs when utilizing ECO Mode. At 50% load, it will operate for approximately 6.5 hours on GAS or 13.5 hours on LPG.
Transparent digital display – To view the statistics and feedback in real-time, the panel has a digital display screen. It makes it easier for you to grasp the fuel's usage, status, and power-generating status.
Comparable in size and weight, Maxpeedingrods 3500W dual fuel inverter generator is surprisingly compact and light. With excellent power for the price, it is a good option to power up your home or any outdoor space, in case you chose to have an outdoor event. This generator will quietly operate your computer, TV, DVD player, and other devices with clean power and excellent portability.
If you are looking for the best deal on the Maxpeedingrods 3500W Dual Fuel Inverter Generator, this link is for you.