Editor's Note: This article was authorized by Thad Peterson. In this section, he rescued his E36 328i Automatic from certain death out in a field in the middle of nowhere, tore it all the way down to nothing, purchased adjustable suspensions from MaXpeedingRods, got some control arms and brakes, starting to get stuff mocked up and tested on track.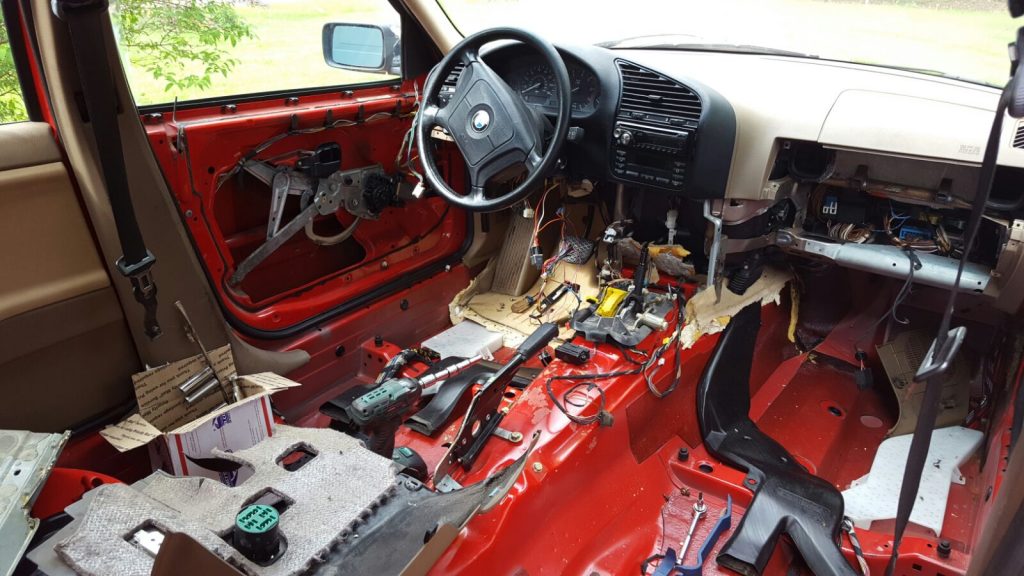 A death trap
I bought the crappiest old E36 I could find for a learn-to-drift car and get totally distracted by it for pretty much the next 6-7 months. The car in question is a 1997 328i Automatic, with about 223k miles on what may well be the complete original drivetrain. I bought this thing for $450, and that was probably paying too much. It ran, sort of, when you could convince the aftermarket anti-theft system to let it start, and when you had it jumped just right. But it was a major league death trap.
Driving it home from the seller's house was far more exciting in a not-so-good way/scary than drifting seems to be. I think the main part of the sketchy handling was because the front control arm bushings had very little rubber left in them, and the right rear shock absorber was doing zero absorbing. Everything else was trashed too. Neither front window worked because the little plastic track runner clips were destroyed, and the driver's door window mechanism was bent. The interior was absolutely disgusting in terms of being nasty dirty and all torn up. I didn't see any sense in taking pictures of the gross-ness, and pretty much just started by tearing out anything that disgusted me.
Aftermarket parts replace
I'm trying to keep things going in sort of the order that I worked on them so I can remember most of what I did. I guess the next thing to cover is the suspension. I started with a set of MaXpeedingRods 24-way adjustable coilovers for less than $400 delivered I think.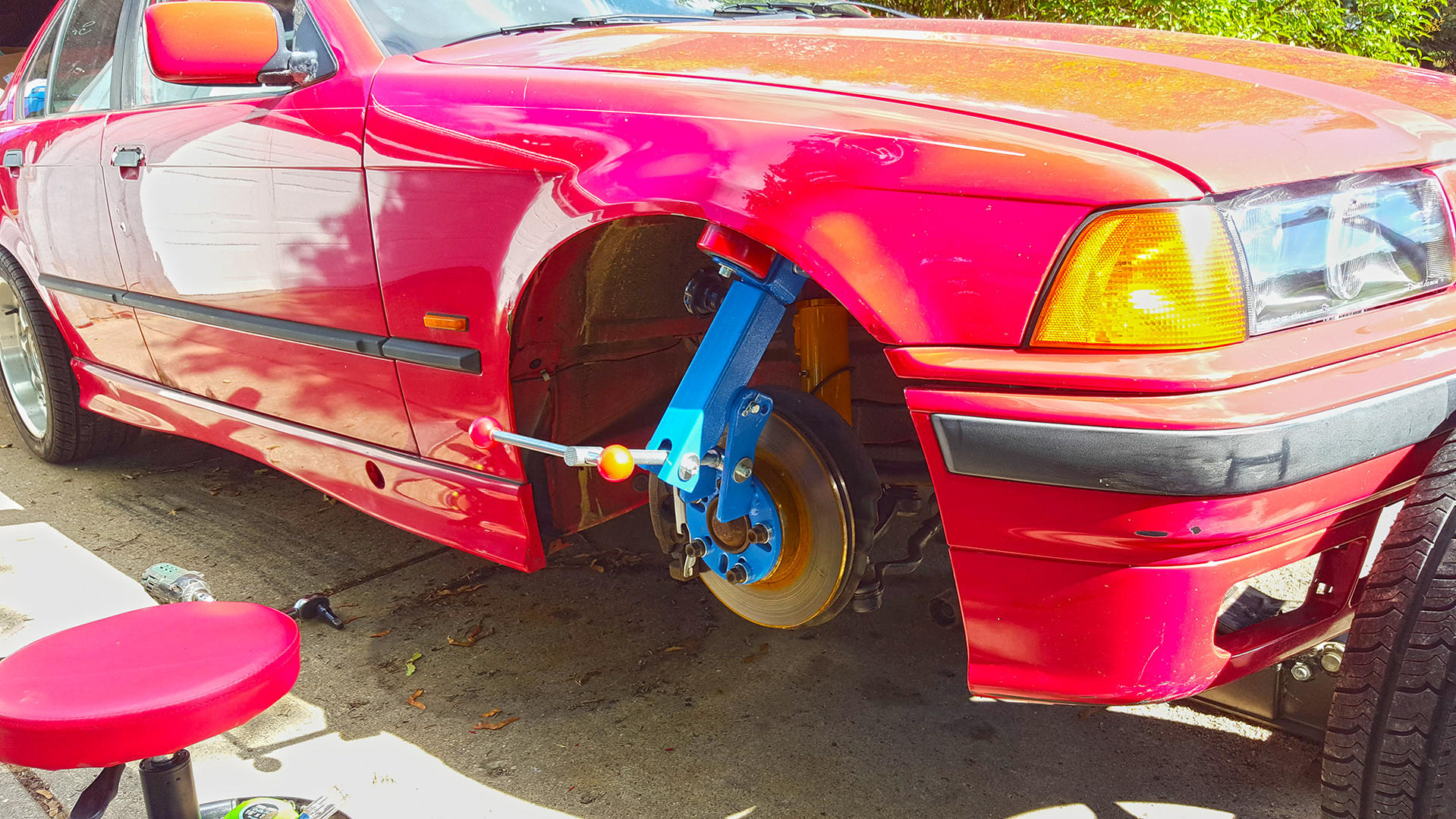 One thing I didn't like about the coilovers very well was how the back of the car felt, so I got out my bin of old coilover springs. I used the ones that came with the coilovers on the bottom, and then I welded up some for the top out of 1/8″ aluminum plate and aluminum tube I made into a short cone and welded to the plate. Works great!
Also, since I wanted to have easy adjustability for the rear camber, I grabbed some control arms from eBay for about $60.
Add some upper and lower outer ball joints to that, and you've got yourself one cheap, nice suspension and steering rebuild kit. I love me some E36!
I wanted to be able to drive around on the 17×8″ Style 19 wheels from the 540i that normally have had 245/45-17 size tires on them, so I had to pull the living hell out of the fenders and quarters. Actually the fenders weren't too bad, but because the quarters were rusty at the back of the wheel arches, it was sort of difficult to get a good deformation on them. They just wanted to flex out and pop back. It was more work than it should have been, but eventually I got them pretty well where I wanted them.
At that point it started to look like a decent car from certain angles.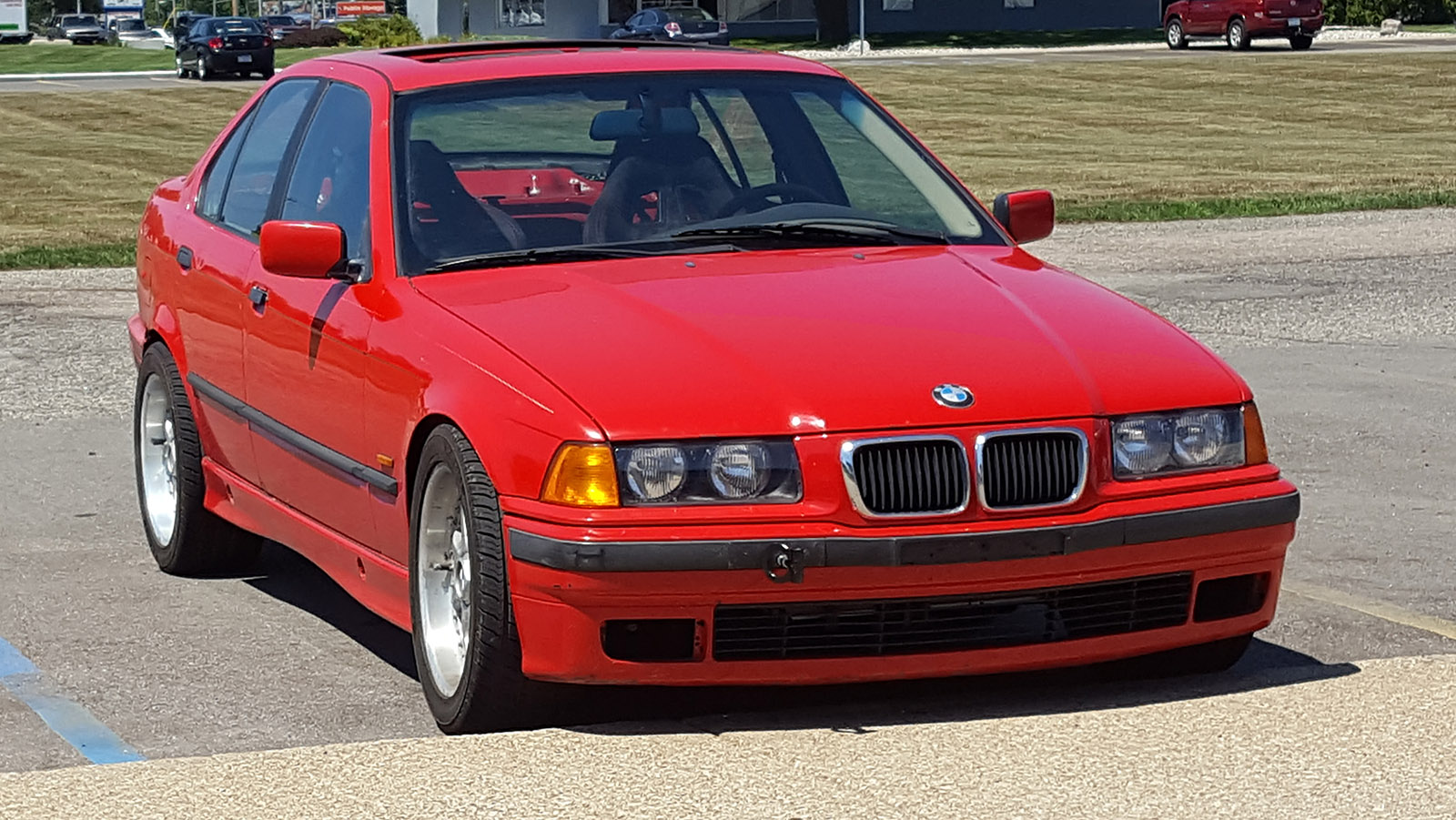 Daily drift
Maybe the next thing to cover is the stuff in the engine bay. Check for another blog to see that my Turbocharged V8 E36 can make some noise.
Then I proceeded to go out and beat the living hell out of everything as much and as often as possible. After all, that is the expressed sole intention for this car.
But of course, it broke.
I ended up breaking one of those original coilovers by dragging a tire across a concrete lip while drifting. I considered this to be completely my fault and not at all the fault of the coilovers. So I bought a set of the MaXpeedingRods non-adjustable coilovers to play with for replacement parts.
I have found them to be very nice also!
Before turbos, the car drifted like this with the original automatic transmission, on MaXpeedingRods coilovers, with stock engine power.